Arunachal
Arunachal:  Students are the future of tomorrow- NERIST Director
ADVERTISEMENT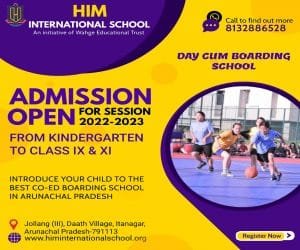 Students are the future of tomorrow and they need to learn properly and serve the humanity for a strong nation- said HS Yadav, Director NERIST 
---
Nirjuli
The Kendriya Vidyalaya here celebrates its annual day in befitting manner.
Addressing the gathering as chief guest North East Regional Institute of Science and Technology (NERIST) Director H S Yadav said that the performances done on the occasion of the annual day of the School will made forward by the students in any programme of school and in higher education learning and even after they are in services and other occasion.
Such activities give a moral boost and support the students for body and mind building and career option. He appeal the student to become nation builder as they are the future of our society and nation.
He said students are the future of tomorrow and they need to learn properly and serve the humanity for a strong nation.
On being appointed as Director of the NERIST  and within a short period of two month have sit with all the members of faculty and even with the NERIST for a visible change in the KV NERIST and said this is a begging and assured to extend all support for the development of the school and the students also grow towards their academic achievement and personality development and curriculum activities and bright future.
Principal Dr. B Saha while highlighting the achievement and annual report of school said theta now there is no scarcity of teaching faculty in school, various curriculum activities apart of normal educational and academic activities are being done for the development of education and growth of students during the academics activities at school.
He appeal the students and parents to have close coordination with the school authority so that the performances of the students is excellent for the future of the students of the school who will go serve the humanity and work for motherland.
Several cultural extravaganza was performed by the students of school while prizes for the events of games and sports and literary competition, cultural activities which were held earlier were distributed by the chief guest and other guests.
The program was coordinated by Uday Shankar Paul, Snchita Roy Sengupta and Pradeep Kaman