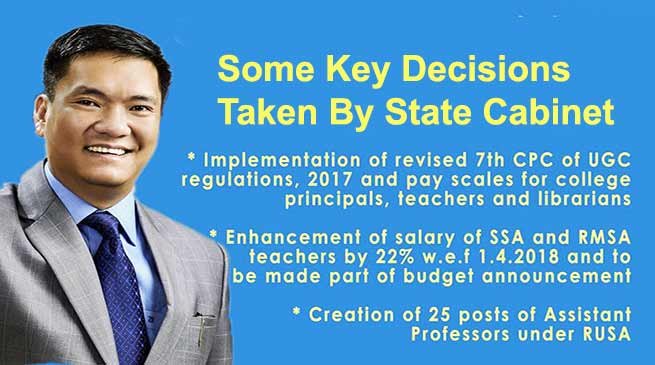 Itanagar
State Cabinet headed by Chief Minister Pema Khandu in its day long meeting on January 30 last took some landmark  decisions.
One of the major decision the council of minister took was to approve the much awaited Arunachal Pradesh Advertisement  Policy 2018. With this decision, a centralised funding policy will be in place for enabling the Government to make payment of Government advertisement bills to media houses on timely basis.
In another landmark decision, the State Cabinet approved for release of gratuitous relief of Rs. 2000 for all contingency and casual workers serving under Arunachal government. It may be recalled that the Chief Minister Pema Khandu had announced to release the same during a labour rally in August 2017 last.
The Cabinet further approved for creation of 25 posts of Assistant Professors for Government Colleges of the State in the department of Education under Rashtriya Uchchatar Shiksha Abhiya (RUSA) programme.
The council of ministers also approved enhancement of salary of the teachers working under SSA and RMSA on contractual basis upto 22% w.e.f. April 1st 2018. The cabinet directed the education department to ensure that salaries are disbursed by the 1st week of the subsequent month through the Aadhar based DBT through PFMS method. It also issued strictures to the department to frame a detail action plan to inculcate discipline amongst teachers and also take actions against errant teachers.
Two important bills – Central Street Vendors (Protection of Livelihood and Regulation of Street Vending) Act, 2014, (No.7 of 2014), Arunachal Pradesh Bill , 2018 and Arunachal Pradesh Land and Ecological Sites (Protection and Management) Bill 2016 were adopted and will be placed in the ensuing Assembly Session.