Arunachal
Arunachal- Snow leopard photographed in West Kameng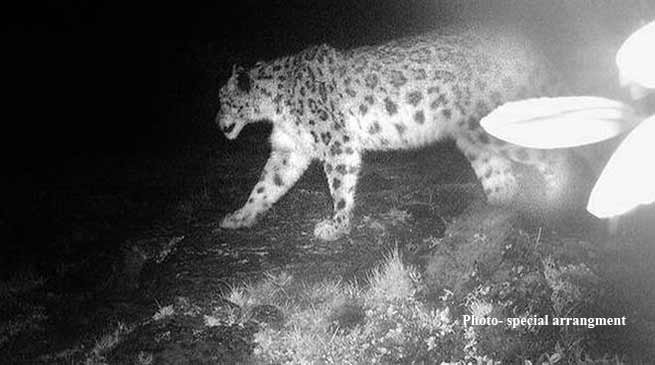 Itanagar
Recently  Scientists have obtained the first evidence of the elusive snow leopard in West Kameng district of Arunachal Pradesh. Camera traps have captured images of the big cat at Thembang village's Community Conserved Area ( CCA ), in West Kameng district.
The presence of the species outside a protected areas highlights the importance of community support for conservation as well as landscape-scale planning, says World Wildlife Fund for Nature (WWF-India), which conducted the camera trap study.
Over 80 per cent of the respondents confirmed the presence of snow leopards in their area. The research team deployed camera traps in select areas to document the species and obtained the photograph of a snow leopard in the Community Conserved Area (CCA).
Placed under the vulnerable category of the International Union for Conservation of Nature (IUCN) Red List of Threatened Species, the big cat, having a global population of around 6500, has worried the wildlife enthusiasts all over the globe, especially in India, which is home to around 500 snow leopards, with the number decreasing every year, owing to a variety of reasons.
In 2004, WWF-India introduced the concept of CCAs in the State to empower local communities to become active decision-makers and implement conservation initiatives.
Arunachal Pradesh is one of the 22 priority landscapes of the Global Snow Leopard Ecosystem Protection Program and while locals and researchers knew that there were snow leopards in the area, scientists had not been able to get photographs thus far.