Arunachal
Arunachal: Sidisow inspects developmental projects in his assembly constituency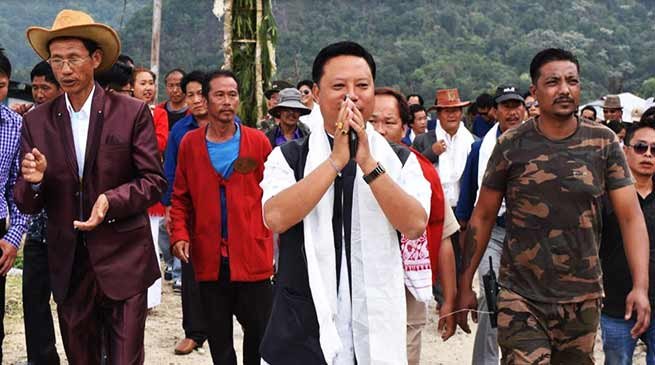 Buragaon
Continuing his week-long tour to his Assembly Constituency in Thrizino-Buragoan, Parliamentary Secretary PHED & Water Supply and local MLA, Kumsi Sidisow visited various villages of Thriziono- , Buragaon and Bichum  Circle and inspected ongoing developmental projects.
During the visit, Sidisow  took stock of various ongoing and already completed projects in Bichum Arkin, Prizin, Kararamu, Karagania, Palatari, Yayung, Tessa, Giziri, Tuluhi, Kayavalley, Tania, Subu, Palizi,Kimi, & Ramda villages.
Addressing the gathering at Bichum Sidisow  opined that almost every village under his constituency is now connected with roads communication.' Beside road connectivity and priority is also to confer quality education and quality health service to the people'
Sidisow while appealing the villagers to cooperate with the government officials and executing agencies for early completion of various pending projects, Local MLA also assured to confer fund for renovation of Primary Health Centres, Water supply connection in the villages and also sanctioned fun for construction of teacher & staff quarters in each village.
Further, he encourage youths he  assured to provide financial help to those  candidate who qualify in prelims of competitive examination like  APPCS and UPSC of his constituency.
Meanwhile, he also contributed 10000 CGI sheets for his constituency to be divided in each village  and  donated a four wheeler Vehicle  at Bichum which shall be used in Medical purpose during any emergencies.
The week-long tour of Parliamentary Secretary Kumsi Sidisow will end on May 24 next.