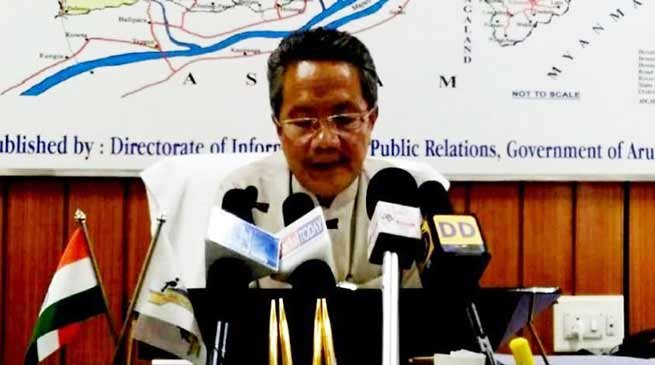 Itanagar
The State Election Commission (SEC) has announced May 29 as the date of polling for municipality elections to be held at Itanagar and Pasighat while, Panchayat elections are stated to be delayed due to technical reasons.
There are presently, 30 wards under Itanagar municipality with 64,799 electors and 12 wards under Pasighat municipality with 9,646 electors.
State Election Commissioner, Hage Kojeen has on Friday, informed that the notification for the election will be issued on May 1(Tuesday), while the last date for filing nominations is May 8. The date of scrutiny of papers is May 10 and the last date for withdrawal of candidature is May 14.
Votes will be counted on May 31 and the election process will have to be completed by June 7, Kojeen said adding that the model code of conduct will come into force from the date of announcement.
The SEC further appealed to all political parties, party workers, candidates and their agents to abide by the model code of conduct specified by the SEC which will be made available on the official website www.secap.nic.in
The commission has also appointed two observers for Itanagar municipality and one observer for Pasighat municipality respectively.
While referring to matter of Panchayat elections, the state election commissioner stated that the delay in elections have resulted in view of the recent Arunachal Pradesh Panchayat Raj amendment  2018, during the fifteenth session of sixth legislative assembly whereby the existing three tier Panchayat Raj system is replaced by two tier system in the state.
"The commission had earlier moved the proposal for holding the elections as per schedule dated January 31, 2018 and requested the state government to convey its concurrence latest by the first week of March, but on getting no reply, reminders were sent to the Chief Minister's office on February 19 and April 11 because our scheduled notification date was April 13 2018, which expired," he stated.
The SEC further informed that the state government in its response mentioned that consequential amendments are required to be incorporated in the various subordinate legislation like Arunachal Pradesh Panchayat Raj Preparation of Electoral Roll Rule 2002, Arunachal Pradesh Panchayati Raj Conduct of Election, 2001 and Arunachal Pradesh Panchayati Raj Delimitation Constituencies and Reservation of Women Rule 2002 etc, in view of the recent amendment.
It was therefore, decided by the state government to hold the elections only after completing the aforesaid legal and required process.
Meanwhile, the commission has urged the state government to expeditiously consider completing the said processes to ensure holding of panchayat elections on time.