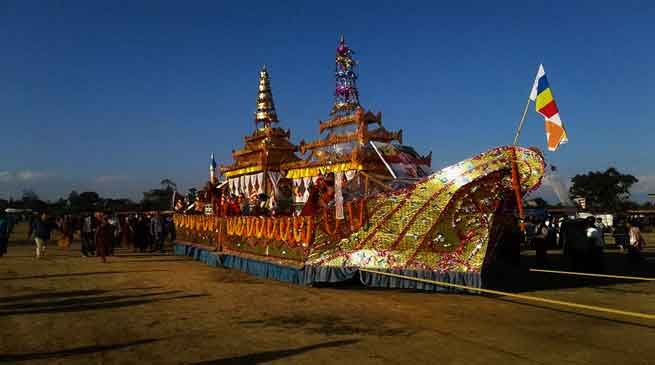 Namsai
By Indrajit Tingwa
The first ever combined Poi-Leng (catafalque) festival commenced here at the Maha bodhi Lord Buddha College,  Namsai  amidst a large gathering of Buddhist monks and devotees from various corners of North East India. The Poi-Leng festival is celebrated to pay obesiance to the departed monks as per Theravada Buddhist traditions. The mortal remains of the monks are installed on a chariot and pulled by monks and devotees on either side thus symbolizing the participation in the last journey of the departed monks.
The Poi-Leng this time has been organised for two venerable monks,  Ven.Gyanatisa Mahathera and Ven. U Nanda Mahathera who attained parinibbana on 8 and 29 November, 2016 respectively at the MLBC Buddha Vihar. Their mortal remains were embalmed using wax and tobacco for preservation before being kept in the coffin. Later it is kept in a makeshift stilt hut called the Kyong-Niban till the commencement of the festival.
Today,in the afternoon the mortal remains of both the monks were brought out from the Kyong-Niban and installed on the chariot (catafalque). Next, a mass prayer was held before the chariot. Later the monks and devotees pulled the chariot alternately from either side. This is the first time in the history of Poi-Leng festival celebration that a single chariot has been used for the last rites of two monks.
 The festival will continue till the 7 January when in the evening hours it will be put to flames.
Ven. U Nanda Mahathera expired at the age of 69 years and originally belonged to Balipathar in Karbi Anglong district,Assam. He was first ordained at the age of 20 years and the next 49 years(Ran Retreats) of his life was spent in monkhood. He spent 44 years in Bodh Gaya before returning to Kaliyani in Assam. He was on a visit to MLBC when he breathed his last.
Ven. Gyanatisa Mahathera originally belonged to Pahukutia village,Titabar,Assam. He left his materialistic to enter monastic life in spiritual pursuit. He was ordained in 1988 at Emphum village now in Namsai district and was remained a monk for 28 Varshavarsh (Rain Retreats). He was 87 years old at the time of his demise.
The public leaders as well as the organising committee headed by Ven. Panyaloka Mahathera and Chowja Maio as the President and General Secretary have made sure for the success of the festival. Many devotees are arriving from far and wide to pay their last generations to the departed monks.
 The first day of the fest concludes with illumination and cultural night. The festival ground spread on a vast plot of land is dotted by food stalls and outlets selling different kind of wares and children toys. The bustling in the market area has been witnessed for the whole day.