Arunachal
Arunachal Pradesh- Idu Mishmi Celebrates Harvest Festival Keh-Meh-Haa with great enthusiasm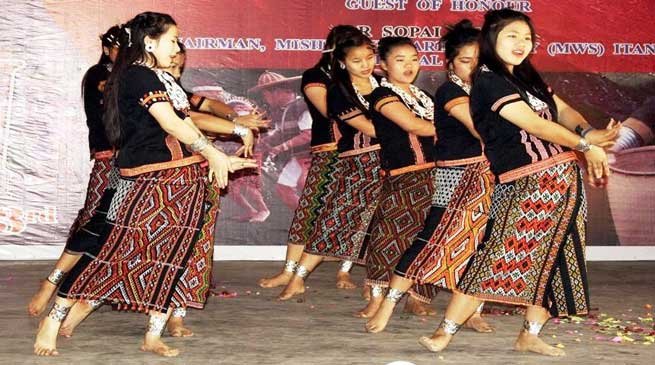 Anini
Keh-Meh-Haa, the harvest festival of the Idus  was celebrated today with great zeal and enthusiasm by the people of the Idu Mishmi tribe of Arunachal Pradesh. This year for the first time the community is celebrating the festival in  one venue for two whole days.  Hundreds of participants from four districts of Arunachal i.e Lohit, Anjaw, Lower Dibang Valley and Dibang valley are participating in it.
CM Pema Khandu greets people on his  FB wall  -  

" My heartiest warm wishes to all my Mishmi brothers and sisters on the occasion of 'Keh-Meh-Haa' - a festival to celebrate the harvest season. May goddess 'Apeh-Milli' and 'Apeh-Gonlo' bless us with good luck, prosperity and a bumper harvest "
The Minister for Dairy development, veterinary, Animal Husbandry and sports and youth Affairs Rajesh Tacho graced the occasion as the chief guest. He thanked Ministers Takam Pario and Jomde Kena who were earlier invited as chief guest and guest of honour respectively for their support even if they couldn't attend the programme due to the weather. He also requested the representatives of Mishmi tribes of Lohit , Anjaw and Dibang Valley to relax the marriage norms in order to encourage inter marriage among the Idu, Digaru and Miju Mishmis.
Suraj Tayang, General Secretary CALSOM who attended the celebration as the guest of honour spoke on ways to improve and maintain a healthy relationship among the three mishmi tribes. He also encouraged the youths to look at Ita Pulu, Tine Mena and APCS toppers Rome Mele and Bittu kri as role models and to stray away from opium and other bad habits.
The Deputy commissioner, Dibang Valley shri Tamune Miso  wished a happy and prosperous Keh Meh Haa to all the Mishmis. He also praised the spirit of the participants saying that the Incessant rain couldn't reduce the zeal of the participants and thanked them for their participation.
The organizing committee and its chairman Rajiv Mihu thanked the ministers Takam Pario and Jomde Kena for their moral and financial  support to make the first ever central Keh-Meh-Haa celebration a successful one.