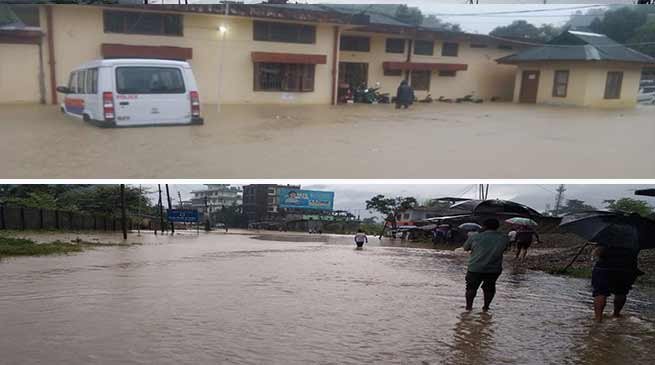 Nirjuli
This is River-415, and we need a boat to cross it, said a local when  our correspondent Manoj Singh taking photographs of NH-415 at Nirjuli in Arunachal Pradesh which was inundated in  flood water on Monday morning.
At the same location a  senior citizen said that such situation of water logging in Nirjuli township have never been experience in his entire life as he is residing there for more than 40 years. This year it is the fourth time such situation have been experiencing by not only the local of the township but by all those who pass through the township.
The worst effected is Nirjuli Police Station.  where OC Techi Nega  and other police personnel are engaged in saving the documents and property of the Police station apart of public service and.  It is the fourth time we have been suffering and our personnel without bearing dress have to work, Said OC of Nirjuli PS.
A local businessmen said that the issuing notices by the administration  do not solve the problem, official should visit the spot when such situation arises and show their presence, and feel the difficulties we are facing.
The question of existence of capital district administration and IMC arise who hardly care for such public hue and cry.  a youth said.
DDMO Capital complex Moromi Sonam said that due to heavy rain the Chekhaso Nallah over flow and the drainage system cannot carry the huge volume of rain water and flooded the low lying area near Bage Tinali. Unless a new drain is not constructed the water logging problems there would not be solved. However the matter have been reported to higher level to take up the matter on priority. DDMO added.
DC Capital Incharge Talom Dupak when contacted said that we are taking up the matter at the highest level on priority basis to short out the issue in the greater interest of the public of Nirjuli. The matter is also under discussion with Highway department for immediate solution.