Itanagar
Arunachal: my priority will be development- Mama Natung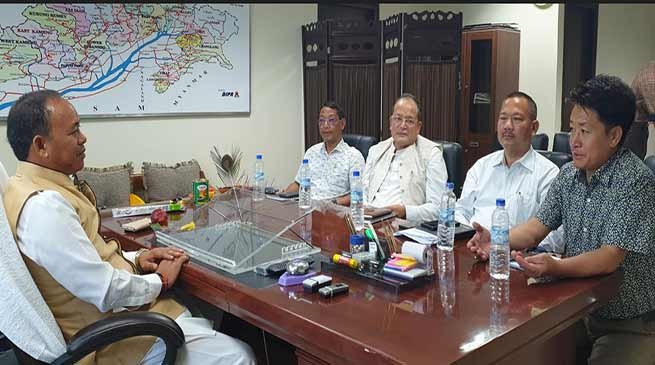 Talking with the media after assuming his office Minister WRD and Sports and Youth Affairs Mama Natung said that " my priority will be development of the state.
---
Itanagar
Minister Water Resource Department (WRD,  Youth Affairs and Sports, Mama Natung has officially took charge of minister today. After assuming the office, Minister Mama Natung had a review meeting with the officials of WRD at Itanagar which was attended by Secretary WRD Geyum Padu, Chief Engineer Western Zone Likar Angu and Chief Engineer (Eastern Zone) Modak Ngomdir with the visionary spirit of "Team Arunachal & Sab ka sath, sab ka vikaas" under the dynamic leadership of Chief Minister, Pema Khandu.
Natung said in order to make the department effective and progressive, the field officers should make practical project reports after conducting actual field visit and survey. Minister has directed the Secretary and Chief Engineers to coordination meeting twice in a year.
 Lamenting that many government policies are not implemented on ground due to insincere field officers and implementing agency, Natung urged all officers to work in right perspective to saying that performance of officers will be only criterion to stay in posting place.
"No undue favour should be sought by the officers through means of financial offers or political recommendation for transfer and posting. Only performance based transfer and posting will be done" he warned the officers.
Watch Video 
Speaking to mediaperson Natung said that my priority will be development and whatever the responsibility have been given to him, he will try his best and put all out effort for progress and development of department and state. However he said no state will progress unless the masses extend their support and cooperation and appeal all to become a part of development process of state.
When asked about the expectation of propel of his assembly constituency, Natung said that 'I have done several works and development in his constituency and that several project and schemes are under pipeline and may more will be taken up for development of rural and other area'.
While congratulating Union Minister for Sports and Youth Affairs KIren Rijiju, Natung said that there are several schemes for promotion of games and sport and hope that under his guidance and supervision the sports activities will grow to many fold. Natung added.