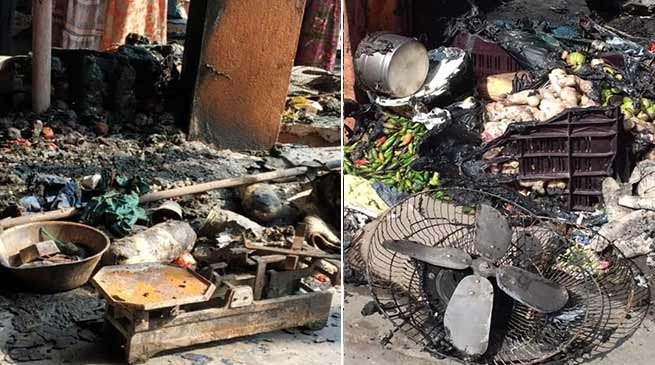 A timely action from the fire department team averted a major fire mishap at market complex in Naharlagun.
---
Itanagar
A  major fire mishap have been averted by the prompt intervention of the capital police and fire service personnel today. The  fire which broke out early this morning at wee hours simultaneously at two market shed at Naharlagun at around 1.30 AM in Super Market area.
Few vendors property and other items were turned into ashes at both incident places. Due to immediate intervention of patrolling  party of Naharlagun police who alerted the nearby fire station and with close coordination of between them this major fire mishap have been averted.
Capital SP M Harsha Vardhan while lauding the personnel alertness said that it would be an act of miscreants and a case of arson have been registered at Naharlagun Police station vide case No-179/18 u/s-436 IPC and investigation have been launched.
Naharlagun Fire Station Officer Sujit Chakraborty  said  that it is beyond imagination at the same time two fire mishap could take place at a distance of merely 100-200 mtrs radius at late night.
it was also found that the mishap could be an act of intentional of miscreants. Reports have been prepared and send to higher authority and police for further action.
All Arunachal Pradesh Hawkers and Street Vendors Federation (AAPHSVF) General Secretary Nabam Rojer inform that the executive member of the organisation have visited the spot and have demanded the police to register a case and arrest the culprit involved in the incident.
He said that the organisation also appeal the district administration for providing compensation and for restoration of the market shed at the earliest.