Itanagar
Arunachal literary festival: on-the-spot painting competition held
Altogether, 68 students from classes IX to XII from different schools of Capital Complex took part in the painting competition,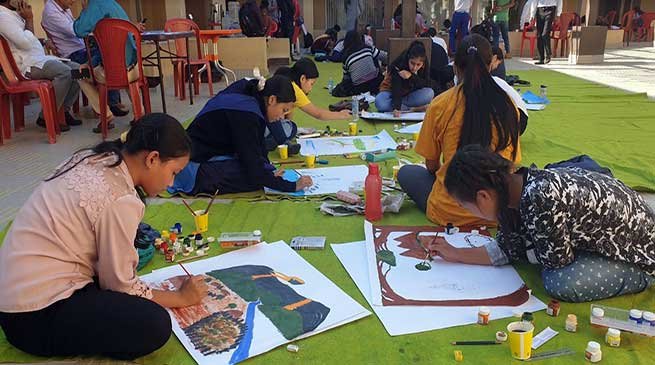 Itanagar
As part of the ongoing Arunachal Literature Festival 2019, an on-the-spot painting competition among the school children was conducted at the premises of DK Convention Centre here today.
Altogether, 68 students from classes IX to XII from different schools of Capital Complex took part in the painting competition, the theme of which was 'My Village'. The winners will be awarded cash prizes during tomorrow's valedictory function, which is likely to be graced by State Assembly Speaker Phasang Dorjee Sona.
An official release said that the Day 2 of the Arunachal LitFest 2019 witnessed a slew of activities including panel discussion on different topics involving noted writers, poetry recitation, painting competition, film show, etc.
The morning session, chaired by Bhaskar Dutta Boruah with panelists Ananda Lal, Deep Saikia and Teesta Guha Sarkar, saw the authors elaborately discussing on the topic "The Perfect First Book: What Publishers Seek in New Writers". They stressed on publication of books with originality, independent voice and sensitivity to words. They also pointed out diminishing trend in selling poetry books.
Another session on "Challenges in Developing Ingenious Language", chaired by Lisa Lomdak with Ani Taggu, Tony Koyu, Banwang Losu and Lalnungthangi Chhangte had exhaustive talks on the scripts deciphered and ongoing works in various places.
Arindum Borkotoky-chaired discussion with Srijana Subba, Chandrakanta Murasingh, Chador Wangmo and Ajanta being panelists dwelt at length on "Role of Children's Literature in Nurturing Creativity", while the one with Prof Venkateswar in the chair with panelists being Anuja Chauhan, Y D Thongchi and Rain Chudori elaborately discussed on "Literature and Film".
The session on the topic "Translation: Transcending the World", chaired by Tayenjam Bijoy kumar Singh with panelists Basudev Das, Kamal Kumar Tanti and Jivan Roy, laid stress on maintaining the root and originality of the writers to make it a global reading.
All translators lauded the works of Sahitya Akademi awardee YD Thongchi who contributed a lot to the world of Assamese literature and most of his novels and short stories have also been translated into Bengali language.
Meanwhile, Jamuna Bini Tadar had a conversation session with noted novelist Anuja Chauhan on her works which are doing wonders among the young people.
In the poetry reading competition, chaired by Jiwan Namdung, rich varieties of poems were recited in different dialects – in Nocte by Thajom Aboh, in Nyishi by Stephen Toku, in Galo by Takop Zirdo and other panelists.
On the occasion, the movie "In the Land of Poison Women" (by Manju Borah) based on a novel by Thongchi, also the president of Arunachal Pradesh Literary Society, was screened at the DKCC hall.