Itanagar
Arunachal: Khandu Govt is people oriented govt for development- Likha Maj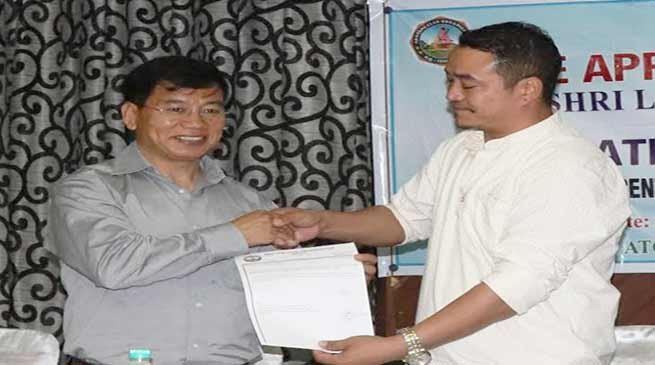 Itanagar
Young entrepreneur Likha Maj appeal the team Abo Tani Clan Organisation (ATCO) to motivate the energy for the cause of preservation or  tradition  and culture  of tribal community of state with renewed zeal.
He was addressing a oath taking ceremony of the newly inducted team of the ATCO here at Hotel Ashola.
Likha said that 'the present government led by Pema Khandu is a people oriented government for development, he hope that the genuine  demand of the organisation would be fulfilled in phase manner by the government keeping all aspect of development.
Likha  said that the work of the organisation should be in such  a way that as Abo Tani being the big brother and the role should be like a big brother which should be an inspiration and role model for others.
Likha  was today inducted as Chief Patron of the organisation along with few more executive members were added for the smooth functioning.
Later addressing the media ATCO President Yamra Taya while reiterating their earlier demand for creation of Department of Abo Tani traditional and Cultural Affairs ( DATCA ), said that we are not objecting to the creation of Department of Indigenous Affairs (DIA) by the  state government. It is a welcome step but it could not fulfilled all demand, requirement and aspiration of the people of Abo Tani clan who are settled in 14 district of state.
He said that the ATCO is launching a touring programme in all Abo Tani inhabitants district which shall began on June 13 from Itanagar and on 14 at Namsai, Lekang, Libang valley, East Siang, Upper Siang, West Siang, Lower Siang, Upper Subansiri, Lower Subansiri and later it will culminated on June 30 in Papum Pare district.
The main motto of the programme will be awareness and promotion of the indigenous movement with regards to  mythological development of Abo Tani clan brothers settled in different parts of state.
He said it is necessary to preserve our culture, tradition and genealogy and mythology so that we can remember our existence and the DATCA department can do it in more efficient way with research and development in the matter.
He said that after completion of the touring programme the team ATCO shall meet Community based organisation  (CBO) and other and discussed the matter of our demand to press the government and if all wanted to have the same in the greater interest of the community/clan we shall go ahead to press our demand with the government.
While referring to last bandh call given on same issue Yamra Taya said that after giving band call 47 members of the organisation were arrested and due to which the issue was pending however he call upon the CBOs and sought support in the greater interest of the Abo-Tani clan or else they may review the demand as their movement is in the greater interest of the clan not personal, he added.