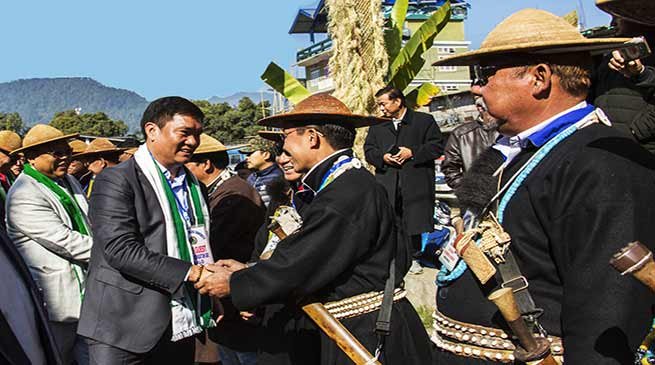 Aalo
Arunachal Pradesh Chief Minister Pema Khandu today attended the 18th foundation day of Galo Welfare Society (GWS). The foundation day is celebrated with the theme of 'peace, progress and prosperity through better road connectivity'.
Speaking on the occasion, the Chief Minister said he has come to Aalo for two reasons – first to attend the foundation day of GWS and express thanks to Galo society for their contribution to development of Arunachal; and secondly to personally attend to the grievances of the people of Aalo constituency.
He said despite towns potential for growth it has been hit by rapid encroachment. He urged the people to reflect on why once a thriving town is now lagging in development. He said govt alone could not be blamed and urged the people to take part in the development process and be part of the Team Arunachal. He called on the community-based organizations (CBO) to take proactive role in matters of development for the welfare of their society.
The Chief Minister said the state govt is keen to bring various reforms aimed at rooting out corruption and to bring in work culture and sought cooperation of CBOs in this matter. He said the recently held policy conclave by the state Govt is aimed at such interventions where even retd govt officials have been deputed who are working to bring out such policies.
The CM also stressed on harnessing natural resources to generate revenue and urged the CBOs to play active role. He said the govt is aiming at raising revenue through taxation, Tourism, Agri & Horti and hydropower. He said state govt is planning to bring in reform in hydropower policy as per which it proposes to raise the percentage of share for the local area development fund from its 12% free power share. He said the govt wants the project affected people to have greater share from the benefits accrued from hydropower generation. He said the matter will be discussed in the cabinet soon.
The CM further informed that state govt plans to fund local festivals through CBOs for which certain mechanism is being worked out. He said the purpose is to encourage celebration of local festivals and to foster communal harmony among different communities.
On a memorandum from GWS for creation of a central divisional commissioner, the CM asked the legislators from the central belt to work out on a proposal that could be presented to cabinet for discussion.
On Connectivity, the CM proposed to discuss with the centre for a new railway line connecting Aalo. He said already survey and investigation for railway lines in foothills and other upper region has started.
On road connectivity, the CM said the union transport ministry has already assured Rs 50000 crore package. He, however, said as per the directions from the centre, it will fund such roads where there are no issues of land compensation and urged the local administration and GWS for cooperation in this matter. The CM further assured to start funding for link roads in Aalo, which will begin from the current financial year. He also assured that the Potin to Pangin road will be executed at earliest and informed that majority of land compensation issues has been resolved. He assured to take up matter with the centre, contractors and with the department for early start of work.
Earlier, Secretary General of Tagin Cultural Society (TCS), Lardik Kare and Tourism Parliamentary Secretary PD Sona who attended as Guest of Honour and Special Guest respectively also spoke.
The CM on the occasion released a Galo textbook and Galo Audio album. He also felicitated social activists and achievers from various fields, which includes prominent names like late Tomo Riba, late Bomto Kamdak, Gumjum Haider, Jene Hai, Bigam Doke Londo, Teetu Yoka, Nyadar Loya, Rokom Bado and many others from Galo community.
The occasion was also attended by Deputy Speaker Tumke Bagra, WCD Parliamentary Secretary Gojen Gadi, SYA Parliamentary Secretary Nyamar Karbak, APEDA Chairman cum Aalo East MLA Jarkar Gamlin and MLAs Pakgna Bage, Kento Rina and Kardo Nyigyor.