National
Arunachal is all set to kick-start 'White Revolution'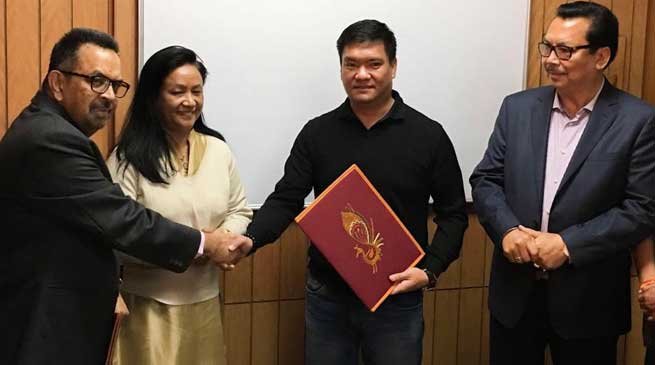 Ahmedabad 
Taking advantage of its participation in the ongoing Vibrant Gujarat Global Summit-2017, Arunachal Pradesh is all set to kick-start a 'White Revolution' in collaboration with the National Dairy Development Board (NDDB) based at Anand, Gujarat. NDDB was set up in 1965 with the basic objective of replicating the famous Amul model throughout the country. 
After a fruitful meeting with NDDB officials at Anand, about 100 kms from Ahmedabad, a Memorandum of Understanding (MoU) was inked this morning by Arunachal Pradesh Government and NDDB in presence of Chief Minister Pema Khandu and Deputy Chief Minister Chowna Mein. 
While Chief Secretary Shakuntala D Gamlin signed on behalf of the state government, NDDB was represented by its Chairman Dilip Rath. Also present during the signing ceremony were Parliamentary Secretary P D Sona, Principal Secretary Satyagopal and Secretary to CM Sonam Chombay. 
As per the MoU, NDDB will conduct a survey/study related to milk production and consumption and identify areas of intervention in Arunachal Pradesh. Based on the survey, the Board will prepare a comprehensive five-year dairy development plan and provide technical support to establish fair and transparent milk procurement system for milk producers of the state.
 NDDB will also provide technical support in terms of establishment of dairy infrastructure, cattle feed and mineral mixture plant etc besides providing training and capacity building of farmers, executives, farmers, leaders, supervisors, dairy technicians, etc. 
Mineral mapping of the state will also be done to find out the status of mineral deficiency in soil and based on that the Board will formulate composition of area specific mineral mixture. 
NDDB began its operations with the mission of making dairying a vehicle to a better future for millions of grassroots milk producers. The mission achieved thrust and direction with the launching of " Operation Flood ",  a programme extending over 26 years and which used World Bank loan to finance India's emergence as the world's largest milk producing nation. Operation Flood's third phase was completed in 1996 and has to its credit a number of significant achievements. 
The Anand model of Amul fame, adopted by NDDB, has been immensely successful as it involves people in their own development through cooperatives where professionals are accountable to leaders elected by producers. The institutional infrastructure — village cooperative, dairy and cattle feed plants, state and national marketing — is owned and controlled by farmers. Anand Pattern cooperatives have progressively, linked producers directly with consumers. 
In another significant development, the state government signed another MoU with the Gujarat Industrial Development Corporation (GIDC), Government of Gujarat, as a part of the Investment Promotion Activity for Vibrant Gujarat Global Summit-2017. 
With an objective to encourage commercial and economic cooperation between both the states, the MoU paves way for the GIDC to facilitate Department of Industries, Government of Arunachal Pradesh, to obtain necessary permissions, registrations, approvals, clearances, etc from concerned departments of Gujarat as per existing policies, rules and regulations of the state government.