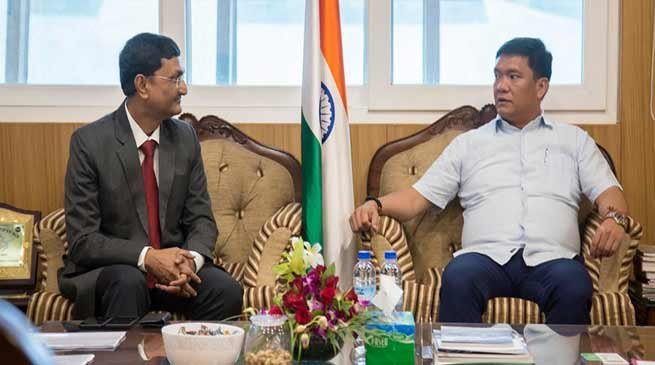 The IOCL will provide LPG connections to about 299 villages in Arunachal Pradesh under PMUY- Uttiya Bhattacharya, Chief General Manager, IOCL  (AOD) 
---
Itanagar
A team of officials from Indian Oil Corporation Ltd (IOCL) headed by Chief General Manager (AOD) Uttiya Bhattacharya called on Chief Minister Pema Khandu at his offices here this morning. Also present were Deputy Chief Minister Chowna Mein, Civil Supply Minister Kamlung Mossang, Secretary Civil Supplies and departmental officers.
Bhattacharya gave details of the Indian Oil's presence and service in the state. He said besides running commercial outlets of the petroleum products, the PSU is engaged in providing PMUY connections to the rural poor under the central government's Gram Swaraj Abhiyan (GSA). The Abhiyan has a target of providing LPG connections to about 16000 villages across the country by the end of this year.
The CGM informed that while more than 6000 villages are being covered under the program in the North East, the IOCL will provide PMUY LPG connections to about 299 villages in Arunachal Pradesh. So far about 8995 connections have been provided to individual households from the target of 10000 in the state.
"Arunachal Pradesh is one of the highest consumers of LPG in the region, which is a great sign. Also Arunachal Pradesh is the only state after Assam to give additional subsidy for a connection to the beneficiaries," he said.
IOCL has a bottling plant at Kimin in Papum Pare district, which caters to the state's requirements along with 66 existing distributors, while several are under process of allotment. The CGM assured the Chief Minister that there won't be any scarcity of LPG in the state. He informed that on request of the state government IOCL has posted a permanent officer, State Level Coordinator, in the state capital who will coordinate with the state government and other stakeholders on behalf of the PSU.
When requested by the Chief Minister to have more petroleum depots in the state, especially in far flung areas, Bhattacharya and his officials informed that IOCL, which has 80% of the share of depots in Arunachal Pradesh, has on date 55 outlets across the state while 16 more are in various stages of commencing.
He said the PSU can open petrol-pumps wherever the government felt necessary immediately provided the government gave plots of minimum requirement. The main depot at Doimukh is being expanded, which is now connected through broad-gauge, can cater to as many outlets as needed, he said.
The Chief Minister asked the Civil Supply Department to locate government lands in the districts, which can be offered to IOCL to immediately open their outlets.
While thanking the CGM for his interest in Arunachal Pradesh, Khandu assured the government through the concerned department will keep in touch with IOCL to ease distribution of LPG and other petroleum products like diesel, petrol and kerosene now that an official of the PSU has been posted in Itanagar.