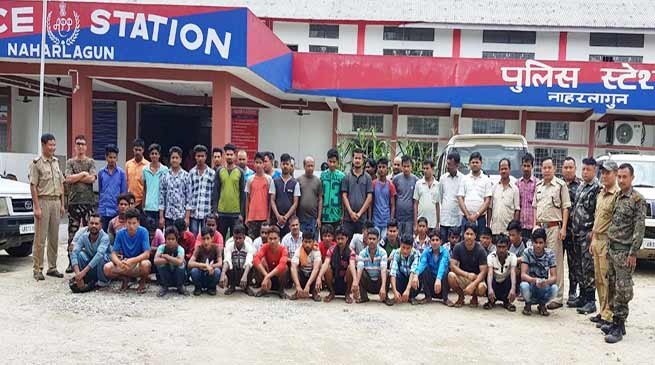 Itanagar
Inner land permit ( ILP ) checking drive is continue in twin capital city Itanagar and  Naharlagun of Arunachal Pradesh and till now police detained more than 200 persons having no proper ILP. 
The Capital Administration has been carrying out ILP checking in the Capital Complex since the last few days. The Executive Magistrates along with the police personals carried out the drive in the twin Capital and caught a total of 135 persons without any valid Inner Line Pass till yesterday . All the ILP violators were extern out from the Inner Line check gate at Banderdewa on the same day.
Continuation of ILP checking drive Under the supervision of SP capital Sagar Singh Kalsi led by Naharlagun PS,  OC N Riba today detected 56  ILP violators.  Such checking shall continue and action will be taken against violators, informed SP, Sgar Singh Kalsi.
The Deputy Commissioner Capital Complex Prince Dhawan has stressed that the Capital Administration has zero tolerance against such illegal immigrants. He has further stressed that such illegal persons may create law and order problems and breach of peace and tranquillity within the territorial jurisdiction of Capital Complex and sought cooperation of every individual to support the DA in this drive against illegal immigrants.
Earlier, the DC vide an order has also directed the SP, ICC and all the Administrative Officers to carryout intensive checking of ILP and to deport those caught without valid ILP beyond the Inner Line Jurisdiction. He also directed the SP to intensify checking of ILP at all the Check Gates/ Entry Gates of Capital Complex.
The DC has also directed all construction agencies involved in infrastructure development within the Capital Complex to ensure that the outside laborers engaged in work should have valid documents/ Inner Lime Permit etc or else necessary action as per provisions of law will be initiated against them.
it must be mention here that two persons were also caught yesterday, with two sacks of ganja weighing approx. 70kg at Itanagar, during the ILP checking drive.