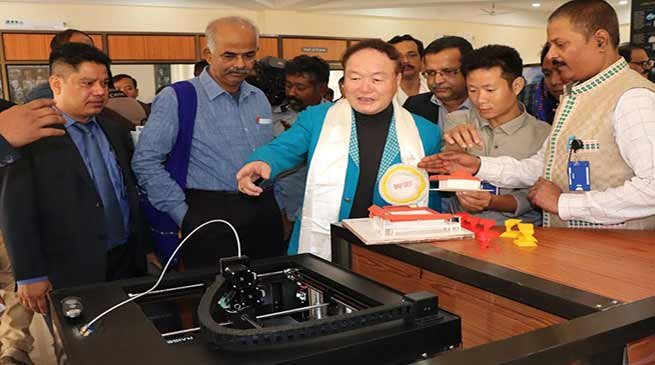 Minister Nabam Rebia inaugurated first innovation hub and space education centre of Arunachal Pradesh at Itanagar.
---
Itanagar
Arunachal Pradesh on Saturday got its first innovation hub and space education centre here, aimed at boosting the science and technology sector in the state.
Developed at an estimated cost of Rs 4 crore at Indira Gandhi Park here, the planetarium and innovation hub was inaugurated on Saturday by Land Management, Environment and Forest Minister Nabam Rebia.
"In the next few years, we will have some brilliant ideas, innovations and start-ups from the state to talk about," the minister said.
The 45-seater planetarium has been set up by the National Council of Science Museum, Kolkata in association with the Arunachal Pradesh State Council for Science and Technology.
The innovation hub would help the youth and children of the state to enhance their knowledge in science and technology, Rebia added.
Director Nehru Science Centre, National Council of Science Museum, Ministry of Culture, Mumbai S. M Khened attended as guest of honour while Itanagar local MLA Techi Kaso as special guest and interacted with students and gathering present on the occasion.
APSCS&T Chairman Bamang Mangha, Secretary Science & Technology Gaken Ete, Arunachal Pradesh state council for Science & technology Director and Member Secretary C D Mungyak and several senior government officers, local leaders and delegates from across the nation among others were present during the inaugural ceremony.