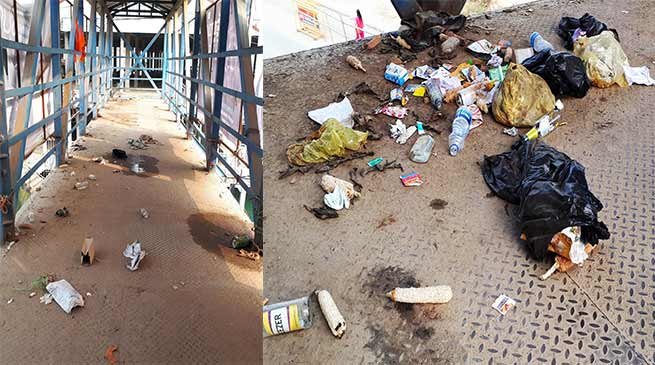 five foot over bridge in capital,  Two in Itanagar located at Ganga Market and Bank Tinali while three in Naharlagun, are the dark side of Swachh Bharat Abhiyan… 
Itanagar
By Manoj Singh
We are talking about  smart city and the mission clean India and Swachh Bharat Abhiyan earlier and Now Swachh Bharat Mission. These are only successful if the citizens cutting across the age, community, caste, creed and literacy the real meaning of the maintaining cleanness and hygiene for a healthier and happy family and in some case we may remain free from some of disease which are caused by dirty and garbage.
It have been observed that there are garbage, bottles of liquors and other waste product which have been a nuisance for the commuters those who use the bridge for crossing the Highway. So far there are five foot over bridge in capital Two in Itanagar located at Ganga Market and Bank Tinali while three in Naharlagun, one at Borpani Bazar, other near TRIHMS while the third near Helipad Try Junction.
It is also seen by dumping of such garbage that these bridge are not used for what it have been constructed rather is misused in night hours by someone.
Deputy Commissioner Capital Complex Prince Dhawan informed when his attention was drawn towards the available  of garbage on almost all the foot over bridge in the capital complex and he  requested the citizens not to litter on the bridges as these are precious public property. He also inform that there is a Chillan of Rupees 5000 for littering in the open. In case the littering continue then the administration may be forced to close these bridges during the night hours to ensure the proper maintenance.
Further he also said that he will direct the IMC authority to make it clean on daily basis.