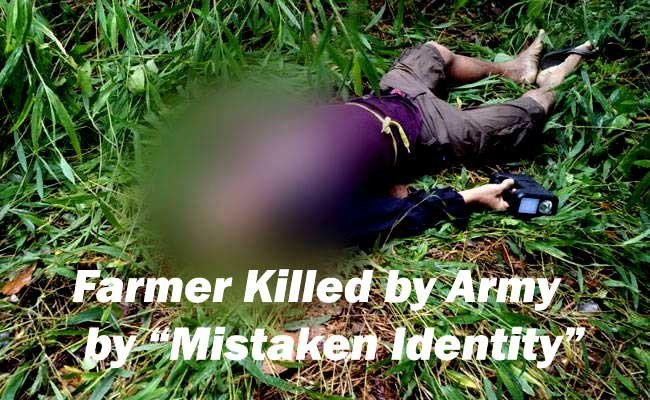 Changlang
A 35 year old farmer Thingtu Ngemu, resident  of Kongsa village, Changlang district in Arunachal Pradesh was shot dead by the Army last night in the "mistaken Identity" Belief that he was a NSCN insurgent. He leaves behind his wife and two children.
Ngemu had gone out to buy betel leaves and was fired upon by the Assam Rifles soldiers out on patrol. When he did not return the villagers sent eight youth to look for him, and found his dead body.
The Army admitted this with a statement: "it is clarified with reference to the incident of one villager getting killed in Changlang on night 14-15 June, 2017. The Army troops had laid an ambush in this particular area based on hard intelligence with regards to movement of a group of hardcore terrorists. It was during this time the individual who has got killed, came into the ambush and on being challenged he made very suspicious movements and rushed towards the ambush party, which forced them to open controlled fire resulting in the individual suffering fatal injury. It is a case of mistaken identity."
A case of mistaken identity death has been registered in the Namtok police station, while the body of the villager was handed over to his family after legal formalities.