Itanagar
Arunachal : Dorjee Khandu's dream becomes true with completion of MLA Apts complex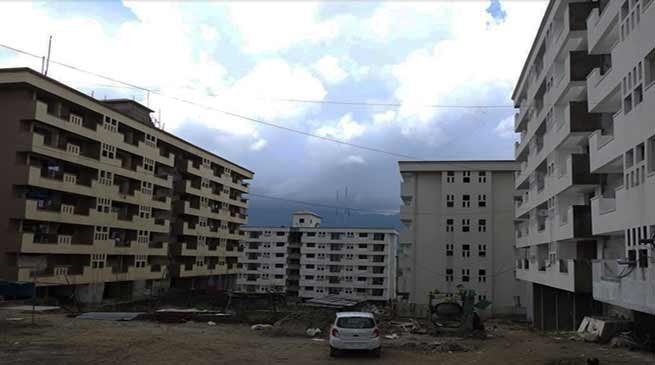 The dream of former Chief Minister Late Dorjee Khandu will come true as MLA Apts complex with all facilities would be completed soon – Speaker T N Thongdok
---
Itanagar
By Manoj Singh
The MLA apartment at Chimpu here would be ready in all respect  for accommodating of 48 MLA of state including Speaker and Deputy Speaker and would be inaugurated very soon, informed  Arunachal Pradesh Legislative Assembly (APLA) Speaker T N Thongdok
Thongdok in an interaction with Arunachal24  said that earlier the work was given to a private company who could not do properly and  leave it abandoned.  But with his Initiative  and fund provided by state govt now the project is nearly it's completion.
I have given target and even monitoring the construction work from time to time. Once the project will complete the, the accommodation problems of many MLAs will be solved.
The MLA apartment complex having all facility like swimming pool, recreational hall, facility of indoor games, and other facility so that the MLAs would be facilitate  in the campus itself.
There are separate block for 46 MLAs and two separate bungalow for Speaker and Deputy Speaker.
The present accommodation occupied by the MLAs will be vacated and those accommodation will be handed over to the Department of Housing since many senior government officer and other are in line and want of accommodation which would be provided to them on priority basis through allotment from the department. Thongdok said.
The MLAs who have not availed accommodation have been given a rental charge of Rupees Ten Thousand which would be stopped and would be saved.
The scheme envisage by former Chief Minister Late Dorjee Khandu is becoming true that a complex with all facility for all MLA accommodation  would be completed soon would solved many problems.
The project like Civil Secretariat, DK State Convention Hall, Inter State Bus Terminal and many other projects. Thongdok observed.
Urban Development & Home Minister Kumar Waii said that we are constantly watching and monitoring the project which is expected to be completed soon.
Former Speaker and Minister Land Management, Environment & Forest Nabam Rebia while said that it is a innovative project which  fulfill aspiration of MLAs to stay at a campus.
Itanagar local MLA Techi Kaso while said that he have been visiting the project from time to time and monitor  the construction part being the local MLA. Due to some technical problem the project of MLA apartment got delayed. Kaso added.
Urban Development Director Taba Tedir  said that  the project  would be ready  within one or two to handover to the APLA but , wey are getting problems as one block is being occupied by the 12th Battalion of NDRF who are still occupying the premise on temporary basis.
The department  have written to the DC Capital Complex to take immediate action for vacation of the premise otherwise it would be difficult to handover the project to Assembly in time.
Urban Development Joint Director Taring Darang while elaborating about the project said that the  project consists of 4 (Four) Nos. of Main Building, Club House, bungalow for Speaker and Deputy Speaker, Swimming Pool with Change room, Parking and other amenities The complex is housed in an area of 1 70 Hectares.
Each main building consist of 12 flats and each flat is made up of 5 bed rooms, office, drawing room and dining room with attached servant quarter. Club house will have restaurant. Gymnasium Banquet Hall, Dormitories. Guest rooms and Reception.
MoA by the Department of UD & Housing, Capital Complex Division, Itanagar on 2nd Sept'2018 after the cabinet decision of the Government of Arunachal Pradesh take over the project for completion and the work is in full swing.