Itanagar
Arunachal CM Pema Khandu meets with Devraj Anbu, GOC 4 Corps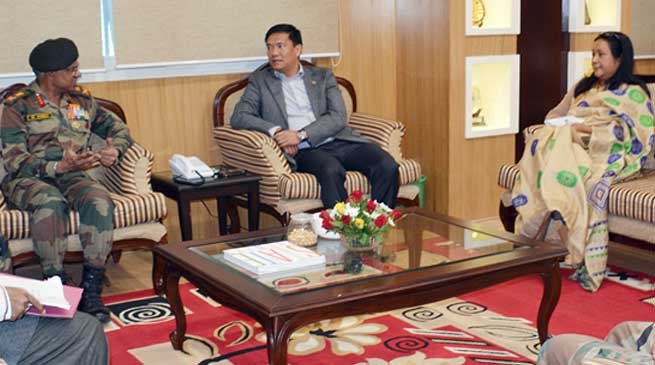 Itanagar
Lieutenant General Devraj Anbu, GOC, 4 Corps, this morning called on Chief Minister Pema Khandu at his offices here. The informal meeting was also attended by the state's Chief Secretary, Principal Secretary and Secretary to CM.
Expressing gratitude to the people of Arunachal Pradesh and the state government, Lt Gen Anbu said the army has been getting full cooperation in all its endeavours in the state, particularly in the Tawang-Kameng sectors that falls under the umbrella of 4 Corps, headquartered at Tezpur.
Lt Gen Anbu, who took over as GOC, 4 Corps recently on November 17, informed the Chief Minister on the status of army activities in the region and sought continuation of the support from the state government.
The brief discussion mainly centred on construction of roads in the border areas and land acquisition for army use.
The Chief Minister, while congratulating the Lt Gen on assumption of his new charge, assured all cooperation from the state government. He asked the officer to send all the proposals for land acquisition and other projects to the state government and assured that all will be fast-tracked.
Khandu admitted the suggestion put in by the GOC for having an Advanced Landing Ground (ALG) in the Tawang-Kameng sector that can accommodate fixed wing aircrafts. Despite sharing a lengthy strategic border with two neighbouring countries the sector doesn't have a landing ground for fixed wing aircrafts.
"In fact we have been contemplating on it for some time now. A landing ground that can accommodate fixed wing aircrafts will not only help the army but would also boost tourism in this sector," the Chief Minister observed.
He informed that plans are afoot to propose such a landing ground near Dirang in West Kameng district to which the GOC admitted that only Dirang area in the sector is feasible for the project.
Khandu said soon the state government would submit a proposal in this regard to the Government of India.
Lt Gen Anbu, who was on his way back from Bumla in Tawang district, praised the natural beauty of Arunachal Pradesh and asserted that it can become one of the best high-end tourist destinations in the country. He said the government has to focus on road and air connectivity in the state besides creating tourism infrastructure.
Meanwhile, the Chief Secretary and Principal Secretary assured the GOC that all pending issues of royalty, land acquisition, road projects, etc are under process of resolution. They too assured full cooperation from the state government with regard to all issues concerned with the army.