Arunachal
Arunachal CM Nabam Tuki calls on PM Modi, complains against Arunachal Governor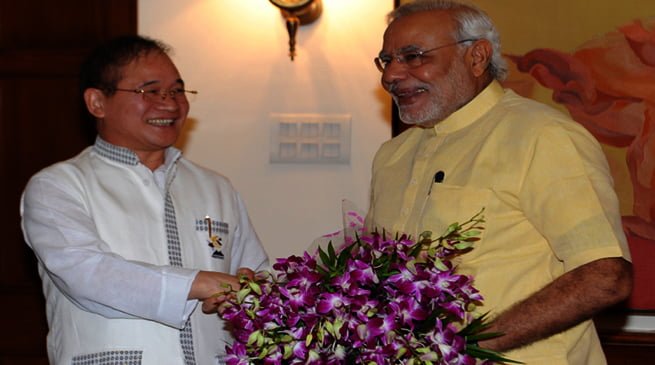 Itanagar
 Arunachal Pradesh Chief Minister Nabam Tuki called on Prime Minister Narendra-Modi" in New Delhi and submitted a detailed report on the recent political developments in the wake of Governor J-P-Rajkhowa" advancing the Assembly session.
While mentioning that this matter was sub-judice and was being heard in the Gauhati High Court, the Chief Minister still maintained that the decision by the Governor was taken "without taking consent from him and his council of ministers," an official communique said here today.
 Tuki also complained to the PM yesterday about the Governor's "tacit role in fuelling dissidence within the ruling Congress party in the state," since Rajkhowa took over charge, the communique said.
The Chief Minister alleged that Rajkhowa's conduct was in violation of the principles of Co-operative Federalism as espoused by the Prime Minister after the NDA came to power, the release said.
The Prime Minister assured Tuki that he would examine the report against the Governor and take appropriate decisions pertaining to the same, the communique claimed.
While discussing the development issues, the Chief Minister requested the Prime Minister for expediting establishment of Greenfield Airport at Hollongi, establishment of Disaster Response Force battalion in the state, establishment of High Court in the state and East West Industrial Corridor for border areas.
Tuki told the PM that despite repeated requests from the state government, the Centre is yet to depute a central team for inspecting the damages due to floods and natural calamities, the communique said.
 The PM assured that a team would be deputed soon to visit the state for the same.
The PM also took stock of the recent earthquake in the NE Region and was informed by the CM that no casualties or damages were reported in Arunachal Pradesh so far, the release said.