Arunachal
Arunachal CM Kalikho Pul Addresses Poll rally in Chubam village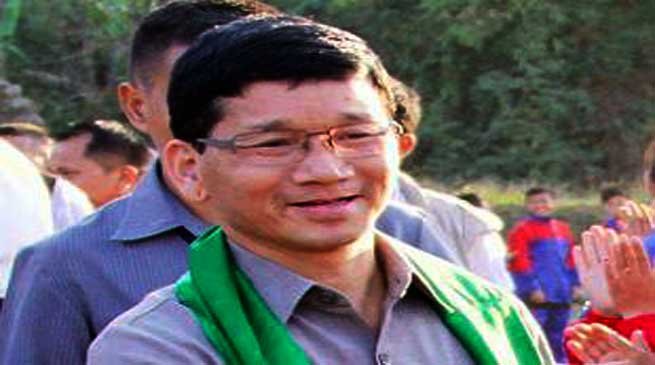 Jairampur
By Ripunjoy Das
Arunachal Pradesh Chief Minister Kalikho Pul addressed an election rally at Chubam village in Longding district for the May 16 bye-elections to the Kanubari legislative assembly constituency.
Despite inclement weather, the CM accompanied by education minister Wangling Lowangdong, MLAs Kaling Moyong, P.D.Sona, Tirong Aboh, Dr. Mohesh Chai and several others state People's Party of Arunachal (PPA) and BJP leaders reached the interior village which till today is devoid of modern amenities like proper road, communication, health care etc.
Addressing the rally, Pul said that his government is committed to ensure overall development in the state, so that the people of the state cannot march shoulder to shoulder with the people of the other states of the country. The CM also came up with a brief sketch which relates to his plan to bring in development in Arunachal Pradesh. He also spoke on the several welfare schemes initiated by his government since he took over as the chief minister of the state. It may be mentioned that the PPA and BJP had forged an alliance to fight the elections and the former MLA of the constituency Gabriel Denwang Wangsu is also the combined candidate for the PPA-BJP ally.
Gabriel is locked in a straight fight against Congress candidate Jyae Wangsu. Gabriel Denwang Wangsu in his speech also appealed to the people to cast their vote in favour of the PPA-BJP ally, since it would ensure development of the constituency. Gabriel had won the first by-election that was held in October 15, 2015 after sitting MLA and former Minister Newlai Thinkatra died. However, Kanubari seat again fell vacant after its Wangsu resigned during political turmoil last year. Kanubari is one of the only constituencies in the country to witness two by- elections in five years term.