Arunachal
Arunachal CM announces "sports incentive cash award"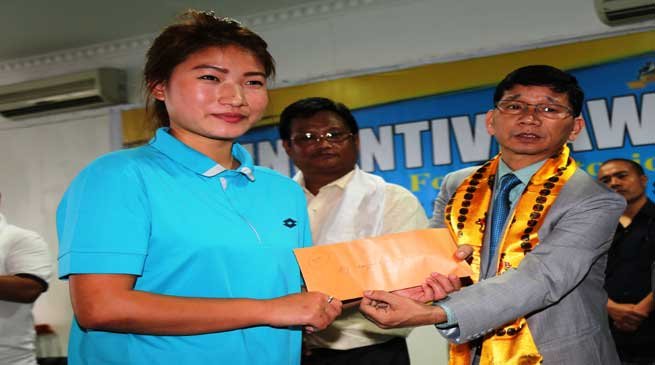 Itanagar
Arunachal CM Kalikho Pul announced a "sports incentive cash award" for regional to international champions, with a aim to develop and encourage sports activities in the state
Pul made this announcement during the "incentive award ceremony for meritorious sportsperson" organised by sports & youth affairs department here.  In this 174 athletes from the state were handed over with cash incentives award amounting to Rs 1 crore .
The  cash award value for gold, silver and bronze medallist in the Olympic event has been enhanced to Rs 3 crore, Rs 2 crore and Rs 1 crore respectively. For the youth Olympic Games, the enhanced cash award value is  Rs 30, Rs 20 and Rs 10 lakhs.
For Asian Games, the chief minister enhanced the cash incentive to Rs 1 crore, Rs 75 lakhs and Rs 50 lakhs. For the Commonwealth games, the enhanced rate is fixed at Rs 75 lakhs, Rs 50 lakhs and Rs 30 lakhs. And for the Youth Commonwealth Games, the enhanced cash incentive is fixed at Rs 15 lakhs, Rs 10 lakhs and Rs 5 lakhs for the gold, silver and bronze medal winner respectively.
Also the chief minister announced to enhance the cash award for athletes qualifying for Olympic and Asian Games to Rs 40 lakhs and Rs 20 lakhs respectively.
As first step towards development of sports infrastructures and facilities, Pul exhorted towards judicious use of funds in planned manner. Accordingly, he requested the department to come up with yearly comprehensive proposal, instead of piecemeal ones to be submitted as per the calendar year.
To make best use of sports talents in the state, the chief minister assured to provide full manpower and technical support to the department with all required facilities to groom the athletes.
"The state has huge sporting talents but lack required platform and facilities. Our government will assure that such talents are not wasted. We will identify them and provide all facilities to nurture them," said Pul.
He also suggested development of a wide-ranging sports complex and facilities in various district headquarters in the state with indoor/outdoor stadiums that will have 24-hours water and power supply, proper washrooms and with all required facilities.
He disclosed that the 10% job quota for sports in various government departments was his earlier initiative. Now under the present initiative, Pul informed that the government has allocated considerable amount of funds towards development of sports in the current state budget.
"The budget is like our bible. All our commitments are inscribed there. So if people find that none of these commitments are fulfilled later, then they should prod the government to commit," he said assuring that none of the announcements were hollow promises but committed in written.
Underlying the importance of sports in daily life, the chief minister asserted that "playing sports and games inculcates in us the sense of discipline, a focused and creative mind, which contributes to the positive growth of our society. So the importance of sports cannot be overlooked."
Pul said he was encouraged by enthusiasm shown by Parliament Secretary for Sports & Youth Affairs, Mutchu Mithi, when he was allotted the post. "While sports department generally do not evince interest, Mr Mithi not only readily agreed to take it but thanked me for offering the post."
In his vote of thanks, Secretary of sports department Dani Salu called chief minister as sports lover by nature who has been always been supportive towards development of sports in the state.
"In his budget speech, he has accommodated all that we had put in a file as special programme. Perhaps, we should have asked for more," he said.