Arunachal
Arunachal- Chief Minister Pema Khandu visits Tawang Monastery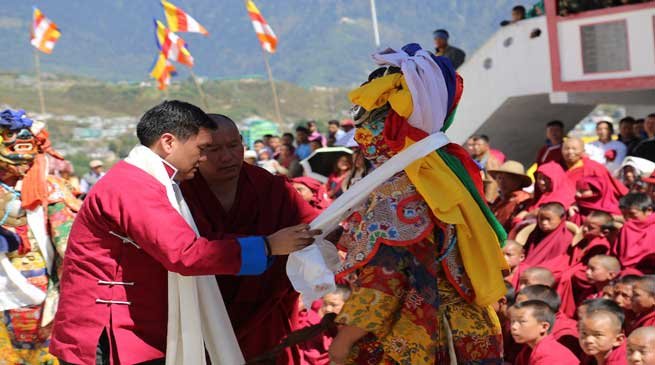 Tawang
Arunachal Pradesh Chief Minister Pema Khandu today visited the famous Gaden Namgyal Lhatse, popularly known as Tawang Monastery, where he was received with huge fanfare and celebrations where monks lined up all along the Monastery stairs to welcome him.
The Chief Minister thanked the monks for the beautiful arrangement made in honour of his visit. He recalled the similar grand reception accorded to late Dorjee Khandu, former Chief Minister by the monks in 2007 and said that such trust shown on him by the people of Arunachal is owing to the good works done by his late father.
Earlier Khandu accompanied by Health Minister Jomde Kena, MLA Tawang Tsering Tashi, Hydropower Chairman T Appa, Tawang Deputy Commissioner Sang Phuntsok offered his prayers to His Holiness, the Dalai Lama.
Khandu in his speech stressed on the importance of monks and nuns in retaining peace and requested for their cooperation in development activities. Exhorting youths to preserve tradition and culture, the CM appreciated the students attending schools in traditional attires once a week saying, "Loss of culture is loss of identity".
He informed that His Holiness, the Dalai Lama will be visiting the state in March 2017 and urged all to work together to make the visit of His Holiness a success.
The Chief Minister promised to establish a health centre within the premises of monastery, a proposal which was submitted during the tenure of late CM Kalikho Pul. He assured his cooperation for the betterment of the monastery and said that all its needs would be kept in mind.
Earlier in his address, Kena thanked the people of Tawang and the monks for reposing their faith on Khandu and for sending a good person to become the Chief Minister of Arunachal.
Appreciating the peaceful nature of the Buddhist community, the health minister said that rest of Arunachal should learn from them of how to adopt peaceful and effective means for development. He also recalled the contribution made by former CM Dorjee Khandu and said that it is because of his good work that all 60 MLAs had decided to unanimously support Pema Khandu for the Chief Minister's post.
Earlier delivering the welcome address, Lama N Norbu (ex Lopon) said that Late CM Dorjee Khandu was remembered for his immense contribution towards the well being of the monks. The monastery owes a lot to the late CM for the privileges being enjoyed by them presently and the same is expected from the present CM, he said.
Also during the visit, dances were performed by the monks in praise of the present CM and praying for his longevity.