Itanagar
Arunachal- Chief Minister Pema Khandu Says " I Believe in Team Work"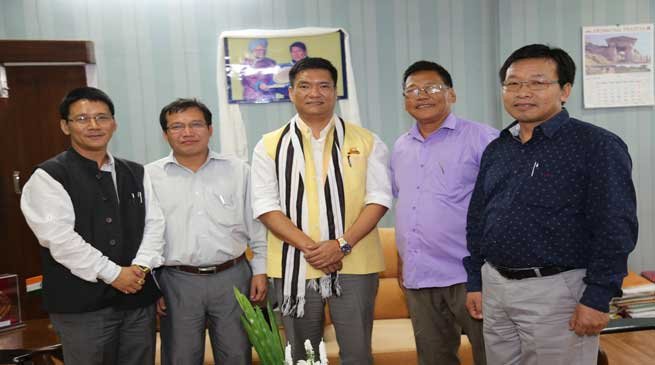 Itanagar
"I believe in team work and will work to reach out to all sections of society to strengthen the spirit of Team Arunachal," said Chief Minister Pema Khandu in a meeting with the members of Nyishi Elite Society (NES) here today.
"Being new to the chair and much younger, I will be needing guidance and advice from all the learned and elderly members of the society," he said to the visiting delegates led by its president Bengia Tolum.
Stating that he has high regards for NES, Chief Minister expressed hope that it would strive to lead the state to a better future being the largest social body in the state.
Also CM Khandu urged the Nyishi apex body to devote its full effort on preservation of indigenous culture and tradition. "Cultural traditions strengthens our sense of belongingness and it reinforces to define who we are. Without it we tend to lose our identity," he asserted.
He further appealed the Nyishi society to play the role of a big brother in bringing harmony among all people of Arunachal.
On developmental priorities, he promised to bring equal development to all constituencies. "I believe all MLAs must be financially empowered equally so that that no constituency is deprived of development," said the Chief Minister.
The NES promised its full support to the new government, and asserted that being a social organization it is committed to help the government in carrying forward its welfare programmes and policies.