Itanagar
Arunachal: Capital police nab one Rhino Poaching "middleman"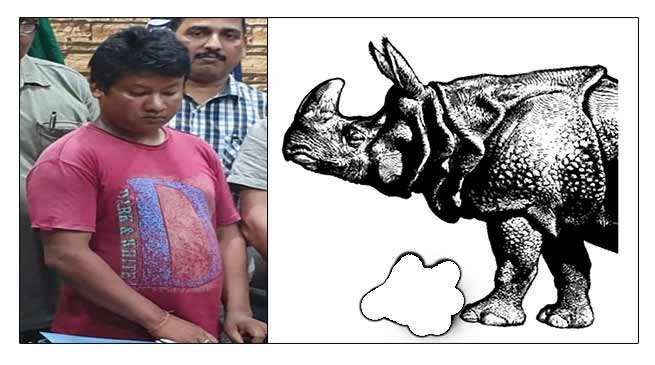 The arrested accused has played as middleman for selling of killed rhino which was reportedly sold to at Rs  30 lakhs.
---
Itanagar
Capital Police & Assam Forest Nabbed One middleman cum Close Associate of Rhino Poachers of Kaziranga National Park on Saturday.
The joint team of Capital Police and Assam Forest, Eastern Range, Kaziranga National Park & World Heritage Site nabbed one Rijen Pegu in connection with Kaziranga National Park Case No ER/01 of 2019 relating to poaching of a horned rhinoceros and smuggling of the rhino horn in International market.
The Assam Forest team from the World Heritage Site, Kaziranga National Park approached SP Capital Tumme Amo on, 14th June 2019 and briefed him about the case requesting him to arrest one wanted person in the said case.
SP Amo immediately constituted a team led by SI N Nishant under his close monitoring. The joint team started intensive search operation and finally  on 15th June, the joint team arrested one  Rijen Pegu (30), resident of Gohpur, Assam and presently,  residing at Gandhi Market, Itanagar.
The case is related to poaching of endangered rhinoceros at Kaziranga National Park and Tiger Reserve. The instant case was reported to Assam Forest Dept.
After recovery of one carcass of horned rhino in Kaziranga Forest Reserve on 8 April 2019.  As per the PM report, the rhino was killed about a week back and horn removed. As per investigation till now, the poachers are reportedly into illegal trading of rhino horns in international market at high cost.
The arrested accused has played as middleman for selling of killed rhino which was reportedly sold at a cost of Rs 30 lakhs. The poachers including the elder brother of the arrested accused had come to Itanagar  with the rhino horn weighing about 300 gm to sell it to some middle man but deal could not materialise.
Hence, they kept the rhino horn with the arrested accused for a few days and with his help, they again came back a week later and sold it to a middle man at Rs 30 lakhs and reportedly, the horn has already been smuggled out of India.
Some mobile sets and various incriminating documents & records have been recovered from the arrested person who has been sent to Kaziranga National Park Eastern Forest Range Assam on transit remand issued by the Court.
The Assam Forest has greatly appreciated the Capital Police, APP for this excellent work. The matter was not disclosed to media on Saturday as there was fear that some associates of the arrested person might attack the Assam Forest team on their way back to Kaziranga.
The involvements of some local youths can not be ruled out in the instant case also. SP Amo has advised local youths not to involve themselves in such crimes but direct their efforts & energies for their career &  nation building.