Itanagar
Arunachal BJP unit welcome the abrogation of Article 370 and 35A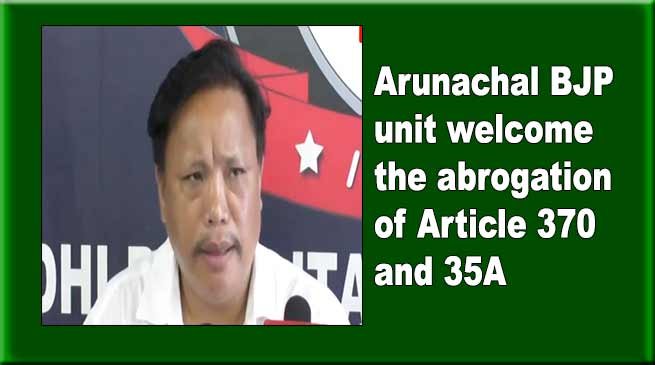 In a press conference here at Arunachal Press Club, BJP State chief spokesperson, Dominic Tadar said, "It is a necessary and important decision to maintain the Unity, Integrity and Sovereignty of the country."
---
Itanagar
The State BJP unit today welcomed the abrogation of Article 370 and 35A from the constitution of India and thanked PM Narendra Modi and Union Home Minister Amit Shah for taking the decision.
In a press conference here at Arunachal Press Club, BJP State chief spokesperson, Dominic Tadar said, "It is a necessary and important decision to maintain the Unity, Integrity and Sovereignty of the country."
Narrating the view of Dr. Shyama Prasad Mukherjee, founder of Bharatiya Jan Sangh now Bharatiya Janata Party on the J&K , he said that it is always the major agenda of BJP party to integrate the country into one. "It is the sacrificed and efforts of,  Mukherjee that we are able to see a historic decision.
He asserted that the Narendra Modi government has no intention to scrap the articles that provide special status to the North Eastern states. "Mr. Shah has also categorically stated in Parliament that alteration of special status will not be applicable for the North Eastern states," he added.
He said that the special status given for J&K is completely different  than the special status provided to North Eastern region.
"We are provided with special status on basis religious and cultural values, geographical and economical reasons" he added.
"Article 371 will not be scrapped, and it should not be scrapped as it protects the tribal identity and cultures. Moreover, it is for the uplift of the areas and not to disintegrate the nation," he added.