Arunachal
 Arunachal- Army Rescue 200 Civilians stranded due to Massive Land Slide in West Kameng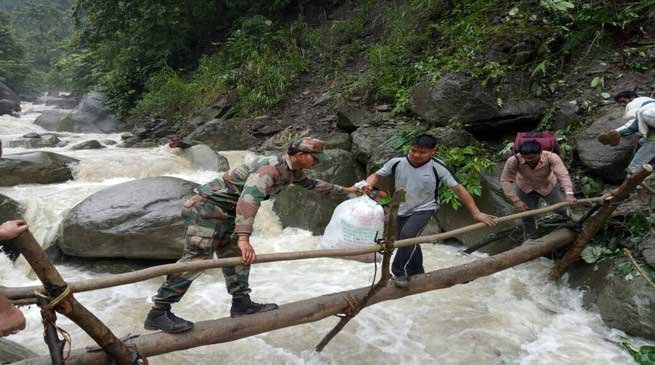 Bomdila
Based on the verbal requisition of ADC Bomdila, Sh R Tibba today morning, the Army troops at  Bhalukpong, rescued 200 civilians (including 70 ladies and 50 children) from a landslide site, wherein they were stranded since 2000h on 18 June in 70 vehicles, between two landslides, 7 km from Bhalukpong towards Sessa.
 The  Company Commander of the Army Company in location, along with Medical Officer and 2 JCOs, 20 Other Ranks moved to the site, created a shunt around the landslide through Valley and the river bed and was able to take the stranded civilians out of the danger Area  0900h onwards. By 1100h, all the people were evacuated​ to safety. They  were given necessary medicines and food.  Border Roads personal are trying to clear the landslides, work in progress.
 The rescued people were extremely thankful to the Army troops for their timely assistance, in relieving them of the agony of being stranded in a place without food, water and medical aid.