Itanagar
Arunachal: 75-year-old Krishna rescued from jungle, gets shelter in Swadhar Griha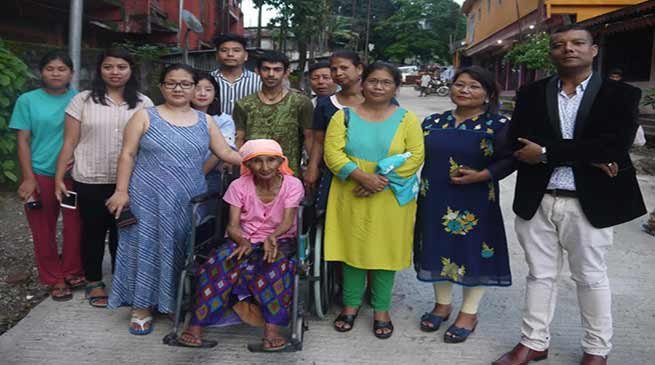 Itanagar
The 75-year-old Krishna Kumari Chetry, who was rescued by the Army from dense jungle in Lathao circle of Namsai district on June 14 last, was given shelter in Swadhar Griha, run by Oju Welfare Association (OWA) here on Saturday.
Namsai CDPO Wihong Khimhun and Swath Bharat prerak Kawang Lowang, deputed by Namsai DC Tapasya Raghav, brought her in a Scorpio to be received by OWA chairperson Anya Ratan, WHL-181 manager Bini Yachu, woman & child development staff Sanjay Sinha, and other OWA staff and took her to Swadhar Griha here with care.
The grand old lady with lean and thin structure responded to questions in Hindi and Nepali from Ratan, when she assured her of all possible support under the care of Association's nurse Runali.
CDPO Khimhun handed over DC's letter that said, 'the district administration and police had attempted all possible way, still trying, to find her immediate family and relatives as she cannot recall herself where her family and relatives are. Therefore, it is kindly requested to your goodself to rehabilitate and give solace to the destitute woman in your esteemed institute until her family and relatives are found."
The woman was in jungle with only an umbrella for 15 days for which she was rushed to district hospital where doctors led by senior medical officer Dr S K Singh had treated and stabilised her health condition.
 DC Raghav, being a doctor herself, realised the gravity of her condition and took step immediately for her rehabilitation.
Her retched condition had made her dumb, Khimhun said, adding her husband reportedly had left for Nepal leaving her with two sons, who also abandoned here. She probably lost her way in search of a place to live and reached the place of no return in dense jungle, she added.
However, Ratan told her that the guideline of state's lone Swadhar Griha permits to rehabilitate destitute   woman up to 60 years of age. But the OWA has never turned any hapless woman so far on humanitarian ground.