Itanagar
Arunachal: 3-day Arunachal film festival begins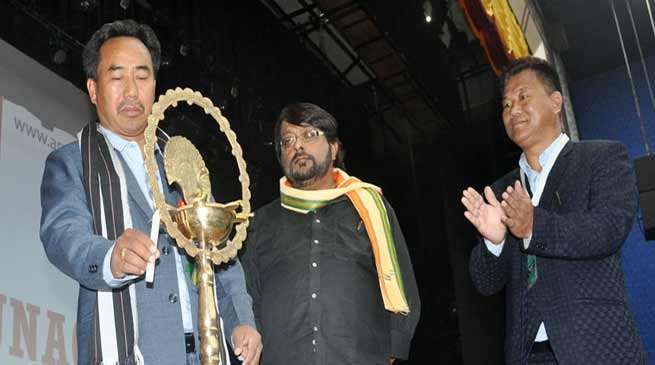 Itanagar
The Education minister of the state Honchun Ngandam on 22nd March formally inaugurated the 3-day Arunachal film festival being organised by the Film Federation of Arunachal in collaboration with the department of Information and Public Relations, government of Arunachal Pradesh at the Dorjee Khandu convention hall, Itanagar  amidst a huge gathering of film buffs.
In his inaugural address, the chief guest while appreciating the organizers for their effort to promote local films through the festival said that there was absolutely no dearth of talents in the state and urged upon the film makers and the creative artistes to strive hard to produce more films depicting myriad issues confronting the state and its people.
He told the aspiring film makers that the state government under the chief minister Pema Khandu was ever willing to extend all possible help and support to them. The minister emphatically said that the positive aspects of the society should be projected and the youths must not be influenced by the negative message of the films.
While describing life as a continuous process of education, Ngandam exhorted the participants to educate the common masses through songs,  films, books etc. He appreciated the one-act play enacted by the young artistes and the Nocte song presented by Ms Milli Singh Lowang. Earlier, the chief guest along with other distinguished guests lit the symbolic festival lamp.
The festival Director Radhe Tajung in his key-note address threw light on the progress of Arunachal Film and Television Institute under the the famed Satyajit Ray Film and Television Institute,  Kolkata.
He also highlighted the categories of films to be screened for competition during the festival. Ashok Vishwanathan, Dean of Satyajit Ray Film and Television Institute,  Kolkata in his address hoped that the festival would show-case the plurality of India adding that cinema was synonymous with drama and emotion. He further told the huge appreciative audience that only education and culture could save a place from decay.
Earlier,  in his welcome speech Ashok Sonam, VP, Film Federation of Arunachal and Event Director said that the number of films and film artistes had increased in leaps and bounds over the years and hoped that with the help and cooperation of the state government the film industry in the state would make a rapid stride.
The chief guest Ngandam and Ashok Swaminathan gave away certificates to the young artistes who had participated in the 3-day workshop on acting. T. Gungte, organizing secretary felicitated the prominent personalities of the state who had created a niche for themselves in their chosen fields. A one-act play on evils of social media was enacted on stage by the young artistes.
A number of documentary films were screened on the inaugural day. The programme was attended by Director of IPR Obang Tayeng and other distinguished invitees.