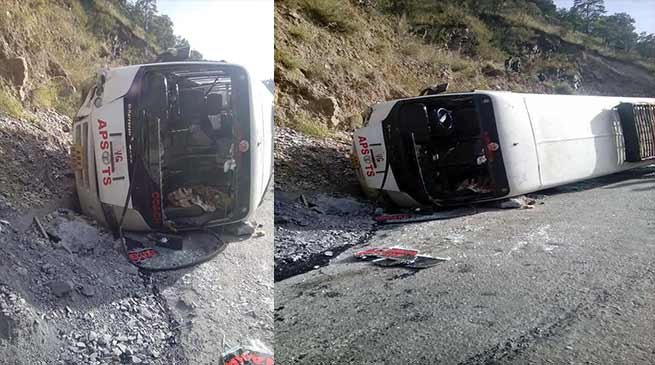 Itanagar
1 died on spot, 1 grievously while 15 sustained injuries when around 40 passengers travelling in an APST bus skidded off rep on the highway near Chuk bridge near Rupa Mor in West Kameng district this morning. Brake faliure is being cited as the cause of the accident.
DSP Bomdila, Gotombo  Dajanjhu informed this daily that 709 (APST) bearing registration No-ARX-0469  and around 40 passenger on board on its route from Tawang to Tezpur at around 7.30 this morning skidded off on the road as the vehicle got brake fail near Chuk bridge near Rupa mor in which 15 passengers received minor injuries who were discharged after first aid.
One Madan Thapa (Plumber) of PHED, Bomdila died on the spot while one person sustained grievously who was admitted to Army Hospital at Rupa while, he said.
After conducting formalities  the body of the deceased was handed over to the family members for conducting last rite, Dajanjhu said.
Rupa Police Station sources said that the APST passenger bus which started its routine journey from Tawang on Monday at around 11 AM and early morning it got some defect in part called 'crown' and repaired in Bomdila, again after the journey started the accident occurred due to reportedly brake fail which was informed to the passengers in the bus. Two of the passengers jumped out of vehicle and driver any how managed to rolled the bus on the road itself and the third person (deceased) who also jumped was crushed when the bus fall on his body.
The sources said that the driver of the vehicle with sound mind have saved many passengers and a major accident averted.
A case have been registered at Rupa Police Station vide case No-36/17 u/s-279, 337,338,304 (A) IPC before FIR lodge by a booking clerk of the APST station Bomdila.
The damaged bus have been removed from the scene before the Motor Vehicle Inspector (MVI) inspect. The sources added.