Itanagar
APPSC Removes name of Chakma candidates from the list of preliminary examinations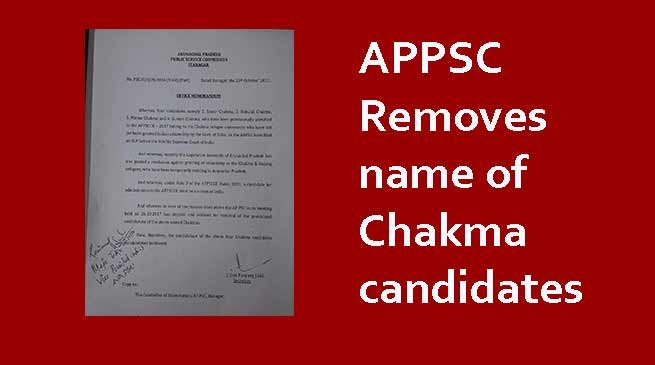 Itanagar
The Arunachal Pradesh Public Service Commission (APPSC) has issued an order to remove  the names and Four Chakma applicants, who had reportedly qualified to appear for the preliminary round of the Arunachal Pradesh Public Service Combined Competitive Examinations (APPSCCE), 2017.
In a  office order issued by AP PSC secretary, it was mentioned  that " As per the  under Rule 3 of the APPSCCE Rules, 2011, a candidate has to be a citizen of India for admission to the examinations".
It must be mention here that "the Commission had published the list of candidates eligible to sit for the preliminary examinations on its official website on October 25, carried the  four names of Chakma Candidates" .
One of the four candidates was also found to have filled his application under the Arunachal Pradesh Scheduled Tribe quota, which had received negative response from several quarters.
Following which the AAPSU had raised strong objections to the inclusion of the four names of Chakma Candidates and a  AAPSU delegation met with the APPSC Chairman on the same day and expressed its displeasure and had sought immediate inquiry. It had also written to the state Chief Minister seeking removal of the four Chakma candidates.
After that  Commission here  took into account that the Chakma refugee community has not yet been granted Indian citizenship by the Government of India as the All Arunachal Pradesh Students' Union (AAPSU) has already filed a Special Leave Petition (SLP) before the Supreme Court of India.
Not only that,  the Arunachal Pradesh Legislative Assembly had also passed a resolution against granting citizenship to Chakma and Hajong refugees, who are temporarily residing in the state.
Chairman Tajom Taloh had also clarified that applicants do not have to submit documents to appear for the preliminary examinations and it was a technical oversight and not a human error.
In all, 24,000 applications came for the APPSCCE, and a little over 22, 000 applicants had qualified to appear in the preliminary examinations scheduled to be held on November 26 next.