Arunachal
Anti-drug rally organised by the Nongtaw Shyam Youth Association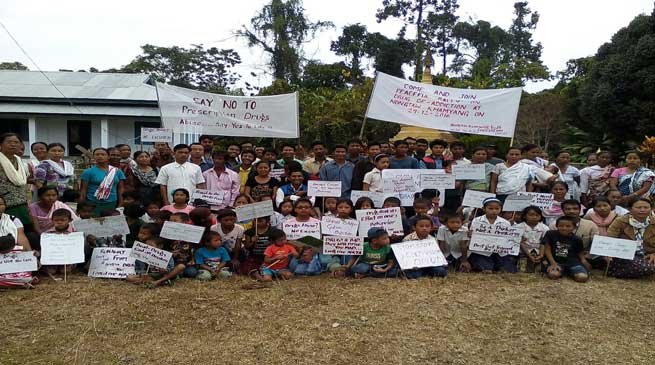 Namsai-
With an aim to create awareness on drug abuse, the primary school students, village youths, mahila mandals and Cultivators Club of Nongtaw Shyam Village (CCNS) here participated in an anti-drug rally organised by the Nongtaw Shyam Youth Association (NKYA) and Nongtow Shyam Mahila Mandal on December 24 last.
Holding placards, festoons and banners and shouting slogans, they protested against the rise in sale and use of drugs among youths and demanded a crackdown on drug peddlers and sale of drugs, alcohol and ganja.
The rally started from Nongtow Khamyang new village and culminated at Nongtow Khamyang old village.
The trend of using drugs, besides consumption of alcohol, smoking cigarettes and ganja, chewing gutkha and inhaling of adhesive substances like dendrite is spreading its tentacles among school and college students in many areas of the Namsai District. It is not only adversely affecting the social environment but also producing many school dropouts.
A meeting was also held on the premises of the Youth Club, Nongtaw Shyam village which was attended by Goan burah, ASM, GPM, students, youths and mahilla mandals of the village.
The organisation urged the administration to take initiatives to make society free of drugs and alcoholic substances.
The members present in the house unanimously declared to keep the village clean from menace of Drugs, Opium and other Anti-social activities from the village.