Entertainment
Anshu Jamsenpa walks the ramp at India Fashion Week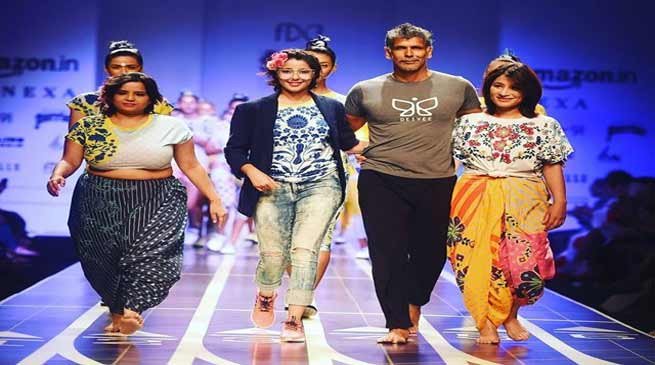 New Delhi
Anshu Jamsenpa walked the ramp as  show stopper at India Fashion Week 2017 held from 11th to 15th Oct in NSIC Okhla New Delhi. Anshu wore a Tee and a 'running sari' designed by Ms. Nida Mahmood. The speciality about this custom outfit is that it is made of 100 per cent recycled plastic bottles, very comfortable and most importantly it is suitable for jogging, running and other physical activities.
The acclaimed designer Ms Nida was happy with her creation on Anshu as it received rave reviews from the critics and the media alike. She had earlier designed clothes line for Priyanka Chopra, Soha Ali Khan, Kalki, Kajol and other Bollywood celebrities, all of whom had walked the ramps in her creative and innovative designs.
When asked how she felt being a celebrity show stopper in such a big fashion platform, Anshu smiled and replied in one liner –  I feel happy and privileged to showcase and launch India's first sportswear and athleisure collection which is fully organic and chemical free.
Deivee's co-founder  Darshan M stated that the active lifestyle brand's sports fashion collection is inspired by the rich culture, color and textiles of the four different regions including North East India.
India Fashion Week 2017 was organized by the Fashion Design Council of India (FDCI) and was sponsored and promoted by Amazon and NEXA.
Sunil Sethi, President, FDCI said, "We are celebrating many historic moments, this season, as it is the 30th edition of FDCI's India Fashion Week and it completes an important milestone. Fashion is an evolving sphere, but it has a fulcrum on which it rotates. And this nerve centre is the fashion industry's legends, who have contributed to its growth in more ways than one. This season, we salute them in our unique way."
Other celebrities who walked the ramp along with Anshu included model actor Milind Soman, India's plus size yoga teacher Dolly Singh and 101 yrs old marathon runner Mata Man Kaur.