Sports
Annual College Day celebration of Donyi Polo Degree College Kamki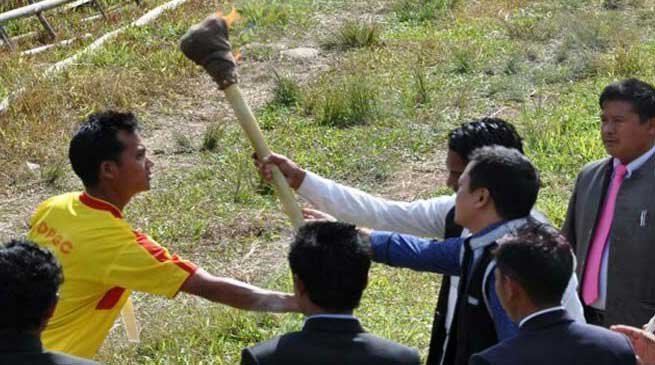 Aalo
The inaugural ceremony of the 20th Annual College Day celebration of Donyi Polo Degree College Kamki got off to a flying start with wide range of sports and cultural activities on 4th Nov. last.
Gracing the occasion as the Chief Guest, Nyamar karbak, Parliamentary Secretary Sports and Youth Affairs and MLA 27th Liromoba exhorted the students take the weeklong event in its true spirit to explore academic, sports and cultural talents among the students.
Responding to memorandum submitted on the occasion pertaining to road condition, gallery around the field, boundary wall of the college, boys and girls hostel, he assured to take up the issues on priority basis and lamented that many of the works could not be taken up due to successive change of guards in the Govt. My emotional attachment with the college is always there and Govt. will take care of lone institute of higher learning, he said.
The West Siang Deputy Commissioner Gamli Padu who graced the occasion as Guest of Honour advised the students imbibe discipline, duty and punctuality to cope with present day competition among the students. Co curricular activities and sports also form integral part of academic life and
the celebration should act as platform to spot out hidden talents of the students. The Special Invitee Shri Lijum Ronya, Ex. Minister who was instrumental in establishing the college at Kamba highlighted the works taken up in the past and appealed MLAs of the district also to contribute their share in
the development of the college.
The Principal of the College, Dr. Rejir Karlo highlighted the good academic performances of the college since its inception. He disclosed that pathetic road condition within the college and absence of boundary wall is a constant source of trouble as greenery and sanctity of the college is disturbed
by cattle and people loitering around the campus. The Mega Cultural Dance, Tug of War, 'Go as You Like' and oath taking ceremony were the highlights of inaugural ceremony.