North East
All NE states will be connected with BG rail by 2020- Prabhu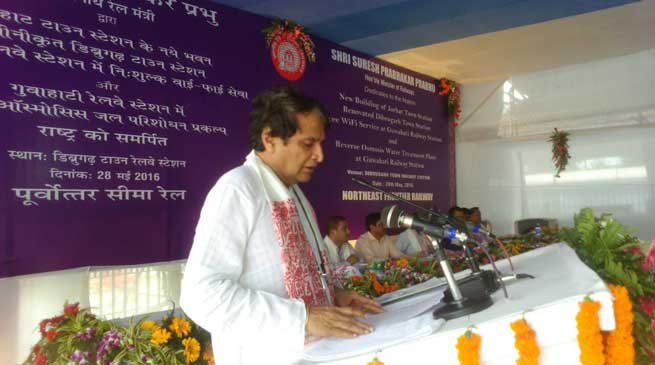 Dibrugarh 
The Hon'ble Railway Minister Shri Suresh Prabhakar Prabhu today said that all NE states will be connected with broad gauge rail by 2020. He was addressing the public at a glittering ceremony at Dibrugarh Town Railway station.
The Railway Minister dedicated four new passenger amenities to the nation. These are – a high-speed free WiFi service for accessing internet at Guwahati railway station, a Reverse Osmosis Water Purifier Plant at Guwahati Railway Station, Newly Constructed
Building of Jorhat Railway Station and Renovated Dibrugarh Town Railway Station.
A simultaneous public ceremony was held at Guwahati Railway Station which was attended by Smt Bijoya Chakraborty, Hon'ble MP Lok Sabha; Shri Siddhartha Bhattacharya, Hon'ble MLA, Assam, senior N. F. Railway officials including Additional General Manager, Shri Ratan Lal and public.
Addressing the meeting, the Railway Minister said northeast is a diverse biological hot-spot and the strength of the region is its rich natural resources. Indian Railway would utilize this strength for bringing in more development to the region, he said. He also elaborated on various plans of the railways concerning the northeast.
The high-speed free WiFi service : for visitors and rail users at Guwahati station is provided by RailTel in partnership with Google and this state of the art world class service is the first of its kind in Northeast.
The Reverse Osmosis Water Treatment Plants: At Guwahati station will provide pure contamination-free drinking water at platforms No. 1, 2, 3, 4 & 5. The source of drinking water at Guwahati station is water from river Brahmaputra which is filtered through rapid gravity filter and disinfected with chlorination. Three reverse osmosis plants, one each for platform No. 1, 2& 3 and 4&5 have been installed remove all types contamination such as bacteria, viruses, pesticides, heavy metals and chemicals etc.
Jorhat Town Station : The Jorhat Town Station has been declared as an Adarsh Station and various works had been undertaken to upgrade the station. These include construction of a new station building including new waiting hall and a lounge. The approach road to the station has been improved and the circulating area developed. Facilities for physically challenged persons like ramp, water supply and parking facilities were added. The platform No. 1 is extended and surface of the platform improved by fixing Kota stone slabs. The facade of the station is also improved by providing porch & replacing roof sheets. The total cost involved in the work is Rs. 1.99 crore.
Dibrugarh Town station: The Dibrugarh Town station has been thoroughly renovated at an approximate cost of Rs. 1.17 crore. As part of the renovation work, the drainage system in the station has been improved and platform No. 3 has been raised. The circulating area of the station has been improved by fixing paver blocks and the surface of platform No. 1 is improved by fixing Kota stone slabs. The concourse of the station is also improved.