International
VIRAL
Agreement for Educational Exchange signed between AUS and CMU of Thailand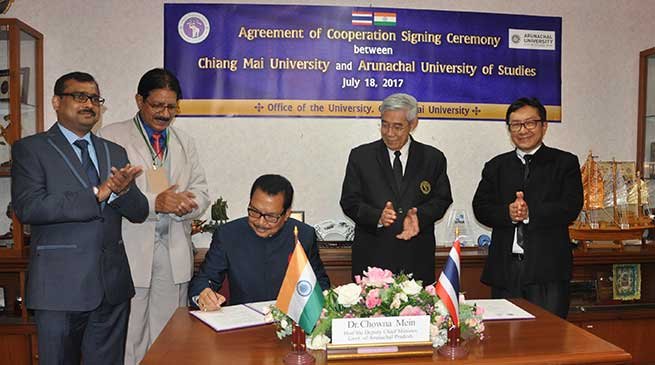 Chiang Mai ( Thailand )
In a first of its kind to boost educational exchange programme with the foreign nation, Arunachal University of Studies (AUS), Namsai in Arunachal Pradesh inked an Agreement of Cooperation with Chiang Mai University (CMU) of Thailand in presence of Deputy Chief Minister of Arunachal Pradesh, Chowna Mein at Chiang Mai in Thailand today.
 The Agreement of Cooperation was signed to establish effective academic relations and to promote scientific relations through economic collaborations between the two institutions. Both the universities, CMU Chiang Mai & AUS Namsai agreed to promote and develop academic collaboration by exchange of staff members, under graduate and graduate students, staff development, exchanging professorship & scientific visits, execution of joint research projects, provision of lectures, seminars and conferences, through exchange of data, documents, research materials and academic information and by such other mutually beneficial projects from time to time.
The two universities had signed the agreement for a initial period of five years term which shall be extended from time to time.
 Deputy Chief Minister, Chowna Mein termed the signing of Agreement between CMU of Chiang Mai in Thailand and AUS, Namsai in Arunachal Pradesh as 'noble venture' and said, "it is a very good beginning and it would open a gateway for building diplomatic relations between Arunachal Pradesh and Thailand in educational, cultural and health sectors too". He said, "It would bridge the academic relations between Arunachal Pradesh and Thailand which has got lots of similarities in terms of religion, culture and language". He further added that it would offer a large scope for building relations through eco-tourism, cultural tourism, religious tourism and also for exchange of trade and other economic activities in future not only with Thailand but with other ASEAN countries too. He asserted that there is growing emphasize of the Govt of India to build relations with the ASEAN countries through its Act East Policy by linking connectivity with the North Eastern States which would promote more such academic  & cultural exchange programs and foster economic development in the region.
He exuded hope that this Agreement would help to establish a long term friendship between the people of Arunachal Pradesh and Thailand. He also urged both the university to implement the Agreement thoroughly to benefit the teaching fraternity and the students of both the university in particular and the state as a whole.
Shirish Jain, Consulate of India at Chiang Mai (Thailand) admired the signing of Agreement of Cooperation between the two Universities saying that coming together of India and Thailand is the need of the hour and this Agreement between the two Universities has hit the nail on the head. He said that Northern Thailand and North East India has a cooperation relation in a meaningful way and it should be strengthened further. Citing Chiang Mai University as a right choice as a partner in studies, he informed that a Department of Centre of Indian Studies would also be established in Chiang Mai University. He expressed hope that this small beginning would go a long way in reaching the newer heights.
Prof Emeritus Avudh Srisukri, Vice-Chairman of the University Council cum Acting President of CMU, Chiang Mai said that the Agreement is very important among the two universities and expressed hope that it will produce positive results.
 Dr Ashwani Lochan, President AUS Namsai who is also a member of World Education Mission said that it is a big opportunity to be a partner with a renowned university in Thailand as there are different competencies in both the universities, which would be beneficial for over all growth of both the universities.
 Associate Prof Rome Chiranukrom, Acting Vice-President for International Relations & Alumni Affairs, CMU, Chiang Mai informed that initially the two universities will exchange study programme in areas of social science and humanities in the aspects of village study, language, philosophy, cultural heritage, architect and religion which would be extended to other subjects like science.
 While Prof V K Kawatra, Vice-Chancellor of AUS Namsai terming the occasion as historic for Arunachal Pradesh added that the two universities also looking for exchange programme on fine arts and music.
It is here to inform that altogether 66 delegates of Tai Communities from North East Region  including 6 delegates from AUS Namsai, 5 delegates from Mohabhodi Lord Buddha College, Namsai and 55 delegates from Assam participated in the 13th International Conference on Thai Studies at the Chiang Mai Exhibition and Convention Center in Chiangmai, Thailand that was held from July 15 to 18.  The theme for the 13th International Conference on Thai Studies was "Globalized Thailand: Connectivity, Conflict and Conundrums of Thai Studies" reflecting the current social transformation and predicaments in Thai Society.
The delegates from Arunachal Pradesh presented papers on "Socio-Cultural Factors and Attitudes Affecting the Health Status of Tai-Khamti Community: A Study of Tai-Khamti Community in Namsai District of Arunachal Pradesh, India" at the 13th International Conference of Thai Studies.