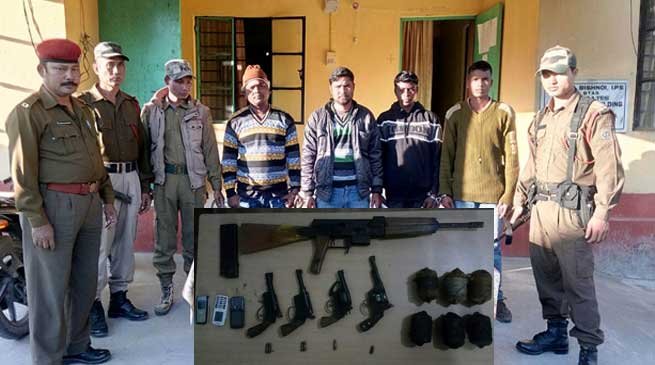 Kokrajhar / Hailakandi
Four cadres of Adivashi Dragon Fighter(ADF) has nabbed from Amguri in kokrajhar. The cadres were identified as 1,Jonash Murmu 2,Mongaldoi Murmu 3, Birbal Soren and 4,Manak Hembram. One country made INSAS type rifle four country made Pistol, Five nos 7.62mm live ammunition, six nos country made bombs were recovered their possession. A Case vide Serpanguri police station case no 72/2016 U/S 120 (b)/ 121/121(A) 122 IPC P/W Sec 4/5 ES. Act has been registered.
Hailakandi 
Two country made guns and 17 rounds of live ammunition were recovered in an operation carried out by CRPF at Sibuttar Village under Hailakandi Police Station today. Two persons namely Badrul Haq Laskar and Azizul Haq Laskar were arrested in this connection. Interrogation is going on.