North East
ABSU organised Torch Rally demanding Bodoland State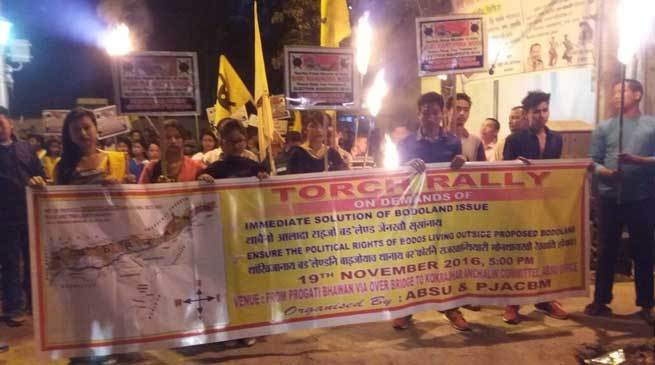 Kokrajhar
All Bodo Students Union ( ABSU ) and People's Joint Action Committee for Bodoland Movement (PJACBM ) jointly orgainsed a Torch rally demanding early solution to the long standing demand of Bodoland State and Political Right to the Bodos living outside the proposed Bodoland area.
ABSU and PJACBM have jointly organized a Torch Rally Today in every District, Anchalik and village level and thus place their four points  demands.
Resolve the Bodo people's demand for creating Bodoland state immediately.
Ensure political right to the Bodos living outside the proposed Bodoland Area.
Protect, Preserve and safeguard the identity of the Bodo and other tribal people with language, culture and tradition by creating Bodoland state
Right and justice to enjoy the provisions of the constitution of India in order that they can live with dignity and honour.
ABSU President Promod Boro who is also  took part in the rally alleged that the  BJP promised both written and verbal that they would resolve the Bodo problem immediately if they could come to power in New Delhi. They were voted to power and their regime in Delhi is more than two years now. But the fact is that there is no initiative to materialize their promise. They have stopped the very continuity of dialogue which apparently means the regime is not willing to resolve the problem.
On the Occasion the  joint movement group have also announced series of agitation programmes like Maha Rally, Dharna and Hunger strike  in Delhi during winter session of parliament in December 2016 and 24hrs National highway and Railway Blockade in January 2017 and Indefinite Mass Hunger Strike in March 2017.
Joint Action Group  also appeal the Government of India to come forward with a pragmatic policy decision on the Bodoland Issue as it has already elapsed almost half century through agitation of different nature, which has taken a toll of more than five thousand lives. They threatened that the  movement will continue until and unless the government of India concedes our demand.