Arunachal
Aalo:  Workshop on 'Make in Arunachal'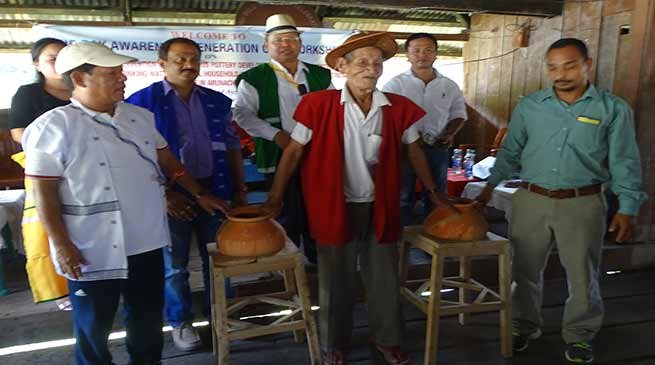 Aalo
One day workshop cum awareness generation with the theme of "Make in Arunachal",  on technology intervention for indigenous pottery development and its application in providing safe drinking water to rural household of Pobdi village under West Siang district held on October 8.
Addressing the PRI Members and villagers Arunachal Pradesh Science & Technology Chairman Bamang Mangha said that development is always welcome by all. The highway construction to the district headquarter is bit slow and wanted that the company may expedite its work.
Highlighting the need of implementation of rural technology in day to day needs which imbibe us to upgrade the Make in Arunachal which shall be a part of Made In India programme where local participation is must.
Every technology and science need to be a part of good production which would be for sustainable development.  Contaminated water these days leads to spread of various diseases and by this way we can prevent use of contaminated water and can remain healthy.
He emphasis on organic cultivation of horticulture and agriculture products for good health and happy life.
He also donated 1 lakh in the village development fund.
We cannot provide plant and machinery to all people but we have technology which can be utilised by everyone and is a cost effective and is very good for health.
Secretary Science and Technology Gaken Ette in his address said that it is a research project and is being done for demonstrating basis in the rural area, if this system is successful then this project may be forwarded to government for its approval and implementation in other parts of state.
Technology intervention is always helpful for human being if it is implemented for the benefit in large scale in rural area Ette said.
Science & Technology Joint Director Dr. Debajit Mahanta delivered key note address on the technology intervention the first and foremost need of the life is water which need to be clean and pure, we have tried to make the pottery as a filter unit with the help of sedimentation, charcoal and filtration unit through with the purified water will be delivered, the water of the pot is also cold and remain safe for drinking.
This is a initiative of rural product which can be available and one of imitative  in Make in Arunachal,
ASM Kenjum Ette, former ASM Mogum Ette, HGB Toli Ette,  Jomjo Ette, Jomin Ette, Lerik Noshi spoke on the occasion.
Remote Sensing Jt. Director Liagi Tajo, Deputy Director Science & Technology (HQ) S. R. Khochey, Deputy Director (Technical) P Lombi, Project Scientist Dunyak Ado, Project Asstiant K Potom,
The awareness programme organised by Pobdi Village level development committee, supported by Arunachal Pradesh state science & Technology, department of Science & Technology, Government of Arunachal Pradesh.