Arunachal
Aalo- ITBP Conducts Cycle Expedition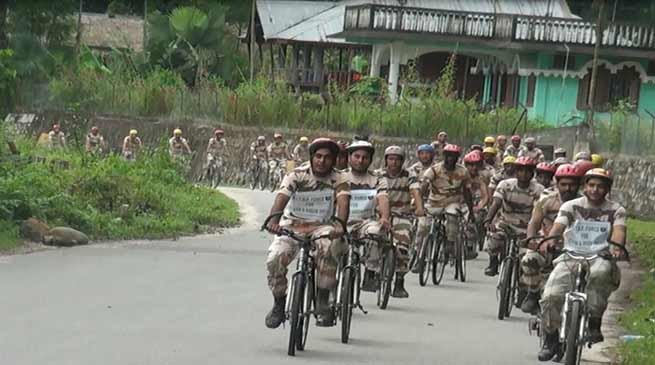 Aalo ( West Siang ) 
20th Battalion of Indo Tibetan Border Police Force on Thursday conducted a cycle expedition at Aalo in West Siang district. The expedition organised  under the umbrella of Swachh Bharat Abhiyan as an initiative to spread awareness for environmental conservation by using pollution free transport.
The expedition was flagged off by Brig. J.S. Budhwar SM, and comprised of 40 cyclist, which was led by Assistant commandant Shashi Pratap.
The Bicycle rally covered a distance of 27 kms and made brief halts in the villages enroute viz. Pobdi, Bene, Wak and was flagged in at  Kamba village.
A medical camp along with cleanliness drive was launched by Himveer Wives Welfare Association and students of ITBP public school.
The response of the local populace was overwhelming and heartening and the locals at each village welcomed all the participants.
Felicitation ceremony including Cultural programs were organized by locals  for the Himveers and HWWA members at all the villages .
At each village cleaning material and waste material baskets were given to the Gram Buddha's of each village. The local populace was very enthusiastic with respect to the concept of Clean India Green India.
The Flag in ceremony was conducted at higher secondary school Kamba.  Gram Buddha's of Kamba Village where felicitated by Commandant and Chief Patron Smt Albha Joshi , of HWWA of 20th Bn, ITBPF.
The flag in ceremony concluded with an  interactive session with students and the locals  under the leadership of  Shailesh Kumar Joshi, Commandant, 20th Bn, ITBP Force.