Arunachal
Aalo Commemorates the Eight Death Anniversary of Amarveer NK Tape Yajo, Kriti Chakra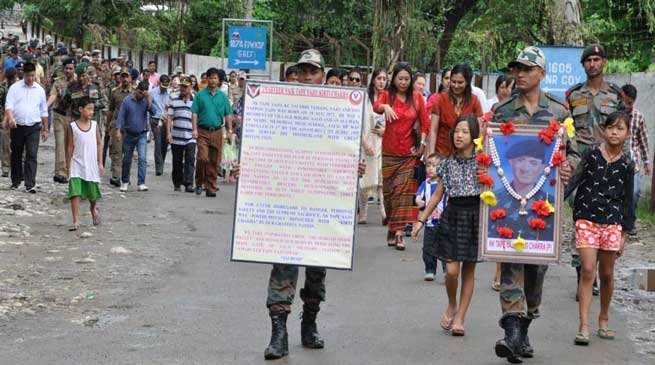 Aalo
People of Aalo commemorated the eight death anniversary of Amarveer NK Tape Yajo, Kriti Chakra in a befitting function held at Aalo Military Station on 22nd September last. AMARVEER TAPE YAJO DWAR was inaugurated by his Mother Mrs YappenYajo amid applause in the presence of family members, Shri Mr Mari Riba, Superintendent of Police, Mr Doi Ado Ex- Minister, Mr Goken Ango, Princhipal of Neru Memorial School, host of public, civil, BRTF, ITBP and military officers of Aalo Military Station.
The Commander Aalo Military Station, West Siang Superintendent of Police Shri Mari Riba, Ex. Minister Shri Doi Ado and Shri Gomar Angu recalled the bravery of the great martyr hailing from tiny Karo village under interior Monigong Circle in West Siang district and said that such honour given to this great soul will go a long way to bring in more such brave soldiers for Aalo and nation in the years to come. Shri Kido Ingo, public leader spelt out in detail about the life history and feeling of family members late Naik Tape Yajo, Kriti Chakra.
Later, all the dignitaries strolled along from Dwar to Amarveer NK Tape Yajo Road up to his Bogdo residence playing patriotic songs and congregated for the wreath laying ceremony. The school children also presented patriotic songs to befit the occasion and two minutes silence was also observed on the day as mark of respect to Indian army who lost their lives in Uri incident.