Itanagar
7 districts, 80 blocks, 863 panchayats covered under BharatNet Project in Arunachal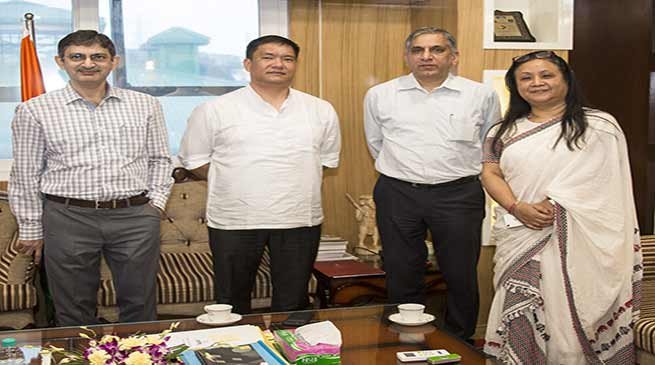 Itanagar
In a meeting with the Chief minister Pema Khandu, the Joint Secretary (Telecom) Shahsi Ranjan Kumar informed that the 7 districts, 80 blocks and 863 gram panchayats of Arunachal pradesh have been covered under BharatNet project.
Joint Secretary (Telecom), Dept of Telecommunications under Ministry of Communication, Shashi Ranjan Kumar today called on Chief Minister Pema Khandu at his office. He was accompanied by Chief Secretary Shakuntala Gamlin and Joint Secretary (Admin) of Dept of Telecommunications, Amit Yadav.
The Joint Secretary in the meeting informed the Chief Minister on the status of telecom connectivity in the state. He said that ensuring telecom connectivity in border state was highly important in view of national security and meeting the aspirations of local people for mobile and internet connectivity.
He also informed of the current issues related to laying of optical fibre cables along highways as the roads are being widened. He said that there are issues related to right of way (ROW) and issues of fibres being damaged and cut due to construction activity.
The Joint Secretary sought support of the state government towards ensuring land availability in setting up of towers and for necessary clearances and approvals in laying of cables. He informed that at present eight districts in Arunachal are not connected by OFC. Therefore these districts are being provided Internet services through satellite connectivity, he informed.
The Chief Minister assured all support of the state government and said that the present government is giving high priority on e-governance. He said the state needs Internet connectivity in all districts for GST implementation and to use IT services such as direct benefit transfer.