Arunachal
30 Lakhs Ex-gratia to the Wife of Late Havildar Hangpan Dada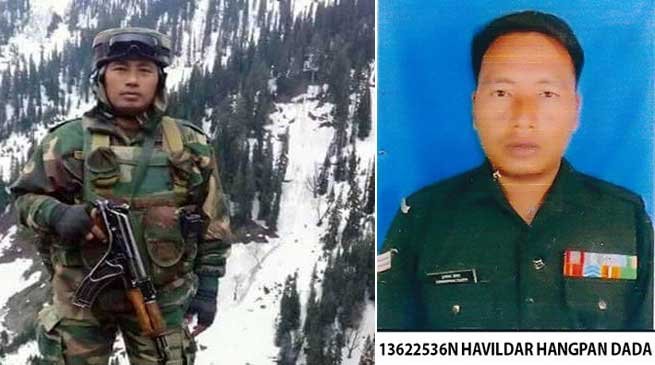 Itanagar 
Arunachal Government has decided to pay an ex-gratia amount of Rs. 30.00 Lakhs (Rupees Thirty Lakhs) to the wife of Late Havildar Hangpan Dada, the recipient of Ashok Chakra, the country's highest peace-time gallantry award. It has also been decided that all educational expenses of the  two children of the gallantry award winner, till they graduate shall be borne by the Government. This was communicated by Chief Minister Pema Khandu to Smt Chasen Lowang Dada, wife of the martyr today.
 "Late Havildar Hangpan Dada, was a hero of Arunachal Pradesh, an inspiring Soldier and a legend. Hav. Hangpan Dada, had always led from the front and his gallant action of eliminating three terrorists and pinning down the fourth terrorist in utter disregard to his personal safety not only foiled the infiltration bid but also ensured the safety of his Section. His selfless and conspicuous gallantry beyond the call of duty despite being grievously injured, reassures the nation that courage and selflessness is ageless and that its sentinels forever stand tall and will deliver at all costs. All Arunachalees are proud of the son of the soil Lt. Hav. Hangpan Dada, who has been awarded "Ashok Chakra", the country's highest peace time gallantry award. We salute him and remember his courage, discipline and supreme sacrifice for our country" CM wrote in the letter.
 Khandu further assured that the family of Late Dada shall be provided full support, help and assistance, whenever required and needed. He further revealed that a 'Memorial' at the native place of Lt. Dada shall be constructed.
The state government has already provided a Government job to the martyr's wife in the district administration. Directions have been issued to the Tirap Deputy Commissioner to take all necessary action for ensuring that the educational expenses of Late Dada's two children are reimbursed to his wife well in time till they graduate. The DC on behalf of the State Government shall hand over the Cheque of Rs. 20.00 Lakhs as ex-gratia payment to her on 19th August next and balance amount of Rs. 10.00 Lakhs shall be paid soon.